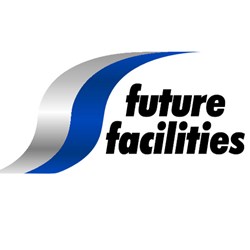 Our partnership with FNT combines optimal planning with predictive analysis and understanding of network, server, load, power, and cooling capacities.
London, United Kingdom (PRWEB UK) 19 February 2014
Future Facilities, a leading provider of data center design and operational management software, has announced a new partnership with FNT, a software provider specialising in the management and planning of all IT infrastructure assets, from cabling through to data centers and the associated services. The new partnership provides:

Seamless integration of FNT Command DCIM tool with Future Facilities' 6SigmaDC toolset for cooling analysis and simulation
Visualization of heat flows and air circulation at planning stage - before making changes to infrastructure
Identification of unutilized capacity within the data center
Hassan Moezzi, CEO at Future Facilities said, "The challenge for data center operators and network managers is to deploy all data center assets to handle ever-increasing loads while managing availability, capacity and efficiency. Our partnership with FNT combines optimal planning with predictive analysis and understanding of network, server, load, power, and cooling capacities."
Nikolaus Albrecht, CEO of FNT, commented: "Our close cooperation and integration with the market-leading predictive modelling solution from Future Facilities enables our major customers and data center operators to deploy their resources efficiently and reliably over the longer term and to equip themselves for the growing demands of the market. This allows them to reduce their costs dramatically, while also being able to cope with change."
FNT's Command software provides high-precision planning and management capabilities for all data center assets. With its comprehensive, consistent, and integrated data model, centralized data storage, and extensive component library featuring over 50,000 server and network components, FNT's DCIM software fulfils all the requirements for managing and planning every aspect of data center infrastructure. FNT Command supports all operational processes within the data center and provides operators with full transparency on all assets.
By integrating FNT Command with 6SigmaDC from Future Facilities, the leading toolset for predictive modelling and simulation of data center cooling, it is now possible to continuously model the impact that data center changes will have on server availability, capacity and cooling efficiency (ACE). Users can simulate and optimize changes in infrastructure before implementation while also identifying unused capacity. Heat flows and air circulation can be visualized to reveal potential reductions in cooling costs and eliminate hotspots.
Thanks to the seamless exchange of data with the Future Facilities simulation and analysis solution, users of FNT Command can now leverage their existing asset information for predictive analysis, prognosis, and planning of their data centers. Following analysis and variant planning, the projected changes can be further refined in FNT Command and implemented with the aid of integrated processes.
The joint interface is available from February 2014. For more information visit Future Facilites at http://www.futurefacilities.com or FNT at http://www.fntsoftware.com/DCIM.
==ends==
About Future Facilities
Since 2004, Future Facilities has provided predictive modelling software and consultancy services to the world's largest data center owner-operators, and to the industry's leading consultancies. Future Facilities' 6SigmaDC software suite optimizes data center utilization through continuous modelling, allowing data center owner-operators to choose how to balance availability, capacity and efficiency in a way that has been proven to save millions of dollars per data hall. Innovative and progressive, Future Facilities is today unique in the data center market place; the only company offering an holistic solution for the data center lifecycle – from inception through to operation.
Additional information can be found at http://www.futurefacilities.com.
About FNT
Headquartered in Ellwangen, Germany, FNT is a leading provider of integrated software products for documenting and managing IT and telecommunications solutions, data centers, and buildings. FNT's innovative software has been deployed worldwide since 1994 as an IT management/OSS solution by enterprises, data center operators, telecommunications service providers, and governmental organizations, with the number of users exceeding 25,000. The company's client base includes more than 500 customers worldwide across a wide range of well-known organizations in various sectors. More than half of Germany's DAX30 listed companies are FNT customers.
FNT operates internationally and has subsidiaries in the United States (Parsippany, New Jersey), Singapore, Dubai, and Russia (Moscow). FNT works in close partnership with market-leading IT service providers and system integrators in many countries to distribute its software.
For Further Information
Hassan Moezzi
Future Facilities Limited
hassan.moezzi(at)FutureFacilities(dot)com
+44 (0) 20 7840 9540
http://www.futurefacilities.com
Press Information
Scott Purchas
SPA Communications Limited
spuchas(at)spacomms(dot)co.uk
+44 (0) 1892 511413
http://www.spacomms.co.uk