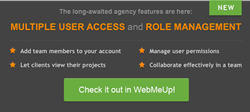 No need to explain, describe, export data etc. – just let others access your SEO project on their device and do their job!
San Francisco, CA (PRWEB) February 24, 2014
WebMeUp now makes collaboration on SEO projects more efficient: no need to explain, describe, export data etc. – just let others access your SEO project on their device and do their job! Screenshots and use cases can be found here: http://webmeup.com/user-management.html
This one new multi-user feature in WebMeUp SEO app covers multiple use cases. While basically, what users can do now is share their WebMeUp projects with multiple team members, clients and other people. But the use for this new feature is rather wide and this will be helping not only SEOs but other Internet Marketing professions as well. A few examples:
When project work is distributed among several team members (a number of people work on different aspects of the same website).
When some of the SEO activities are being outsourced while keeping it in WebMeUp.
When certain difficulties of peculiarities of the project/website need to be discussed with a specialist who is not working at this project (so that the data in question can be demonstrated even distantly).
When a client needs to see all the stats on their site or needs more flexibility analyzing the results a hired SEO achieved for them.
When a potential client is interested to see distantly certain finding on their site that can be demonstrated via WebMeUp.
And there many other uses that anyone is invited to discover in WebMeUp.
*Why it is important*
"While working at their projects, SEOs often need to share work with other people, not only colleagues but others who are also involved in the process of creating, promoting and monetizing web pages. This is quite an expected development of WebMeUp that our users asked about. I've been missing this feature as well while working at WebMeUp as a marketer!" says Alexandra Shkalikova who is currently WebMeUp's VP of Marketing.
*How it works*
Registered users are able to invite other people for different levels of guest access to their WebMeUp account.
There are two basic groups of roles available: Staff and Client. While Client possesses read-only rights for certain projects (data sets for websites), Staff roles have more extended levels of accessibility: Account Owner has full access to project settings, Google Analytics credentials and payments management. Manager is the same as Account Owner except that they are not able to manage subscription/payment related settings (i.e. Manager can also invite new Team members and Clients to the account). Team member is a role where only the SEO tasks can be done, while this type of user is not able to add/remove projects, change connected Google Analytics accounts, re-brand reports or add new clients to the project.
For more information on the solution, please visit http://webmeup.com/user-management.html.
Free 15 day trial of WebMeUp (including Multiple Users feature) is available at http://webmeup.com.
Feeling social? Connect to developers on Twitter @WebMeUpSEO, Facebook fb.me/WebMeUpSEO or Google Plus gplus.to/WebMeUp.
*About WebMeUp*
WebMeUp is a tech company that offers a variety of services and tools, including WebMeUp SEO software, WebMeUp backlink index, free WebMeUp backlink tool, WebMeUp SEO API, catering for both businesses and individual users. The company's mission is to provide most accurate data for smart web optimization. More information about WebMeUp is available at the official website webmeup.com.