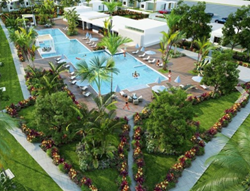 As opposed to blindly developing, we wanted to get a true feel for what the beach market was really missing.
(PRWEB) February 20, 2014
Davivienda, a Panamanian developer with more than 25 years in the market, announced the groundbreaking for their new beach project Punta Barco Country Club, and has tapped Panama Equity as their exclusive real estate broker for the project.
Coming in at under $220,000, Punta Barco Country Club homes are a radical deviation from the standard inventory in the Panama beaches areas, which consist mostly of beach condos, small duplexes, and luxury homes.
There is a scarcity of options in this mid-priced sector, meaning that this development should have a major impact on the market, offering a new option to a captive audience of both foreigners and local buyers seeking an affordable gated community at the beach.
According to Isaac Tarazi, Director for Davivienda, "As opposed to blindly developing, we wanted to get a true feel for what the beach market was really missing, and we came to the conclusion that homes in a gated community with a high level of amenities offering a great value would be our niche."
Tarazi chose the location, less than five minutes from Coronado and an hour from Panama City to be the site of Davivienda's newest gated community, which will feature three bedroom homes just under 1,500 square feet (140 meters).
Highlights include multiple swimming pools, two tennis courts, exercise facilities, gated access, and onsite property management; amenities normally offered only for more higher-priced property options.
As a testament to the pent up demand for this type of home, the developers have already pre-sold 20 of the 180 homes with no marketing.
The Punta Barco area is best known for large equestrian estates and proximity to Playa Teta, Panama City's most popular weekend surf beach. Local attractions in the area include:

Four professional golf courses within 15 minutes
Eco-tourism facilities for kayaking, zip lining, and hiking
Seafood and artisan markets
Shopping centers and restaurants
The Scarlett Johnson International airport
"This product is perfect for the beach market," said Kent Davis, Director of Panama Equity Real Estate.
"City residents are looking for an affordable home in the beaches areas, retirees are moving here looking for good values. The buyers looking for a beach home have not had this type of option to choose from and I think Davivienda has a hot project on their hands, which is why we jumped at the opportunity to be their master broker."
Davis, author of the 2013 Real Estate Report On Beach Properties, cited growing demand from the US, Canada, and Europeans in the beaches area, with only a small amount of inventory at this price point to choose from.
Panama Equity is a boutique real estate firm based in Panama City, Panama with offices located in Panama City, Coronado, and Pedasi. For more information on the Punta Barco Country Club, visit their website at http://www.panamaequity.com.