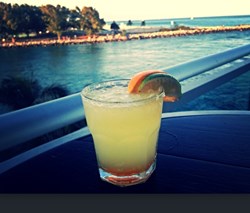 As warm-weather destinations, the Personal Luxury Resorts in Florida find these are best served pool-, beach- or yacht-side. - Eric Gavin, regional vice president of sales & marketing.
Miami, FL (PRWEB) February 20, 2014
February 22nd is National Margarita Day. The margarita cocktail—a famous concoction of tequila, Cointreau or Triple Sec, and lime juice—has been around since the 1940s. The master mixologists at the Personal Luxury Resorts and Hotels® in Florida offer their most delicious take on the tried-and-true margarita recipe.
"As warm-weather destinations, the Personal Luxury Resorts in Florida find these are best served pool-, beach- or yacht-side," states Eric Gavin, regional vice president of sales & marketing.
Mister Collins at ONE Bal Harbour Resort & Spa in Bal Harbour, has been applauded by national magazines for its cocktail crafting prowess. Food & Beverage director Adam Postal is the genius behind the Not So Sour Margarita. In addition, on February 22, 2014, Mister Collins will host a two-for-one Margarita special throughout lunch and dinner service. http://www.onebalharbourresort.com.
"Not So Sour" Margarita (No Sour Mix)
3oz Patron Silver
1oz Cointreau
1/2oz Fresh Lime Juice
Splash Fresh Orange Juice
2 Drops Agave Syrup
Shake Tequila, Cointreau, OJ and lime juice vigorously. Pour into salted rim rocks glass. Add Agave and garnish with orange and lime wedge.
While Costa d'Este Beach Resort & Spa (http://www.costadeste.com), owned by Gloria and Emilio Estefan, is widely known for its Mojitos; the resort's Margarita is outstanding as well. This beloved Vero Beach hotel and restaurant, The Wave Kitchen & Bar, suggest the Porthole Margarita:
2.5oz of Agave Tequila
1 oz of Sour mix
½ oz of Triple Sec
Splash of Orange Juice
Serve over Ice
Garnish with a lime wedge
Salt on the rim (optional)
Nothing but sunshine and blue skies at Marenas Beach Resort in Sunny Isles Beach, Florida (http://www.marenasresort.com). The team at the beach bar suggests something icy, to cool revelers off from the warm winter breezes in this North Miami Beach paradise. The Blue Skies Margarita will do just the trick.
1 1/2 oz Brandy
1 1/2 oz Orange liqueur
1 1/2 oz Tequila Reposado
1 oz Blue curacao
Juice of 2 limes
Pour each ingredient into a large glass and add ice. Rim a margarita glass with lime and salt, fill with ice and garnish with a lime slice. Carefully pour contents of large glass into the salted margarita glass, leaving salt undisturbed.
Ready or not, here comes Villas of Grand Cypress, located in Orlando, with a spicy sweet Margarita treat. The Blue Tee Margarita, named for the markers used for championship play, is guaranteed to improve golf swings, or at least the golfer's perception of his swing. To make the Blue Tee Margarita, marinate a dozen sport peppers in lime juice and blanch with cold water place in a 750 ml bottle of Silver Patron and marinate a minimum of 24 hours.
In a shaker combine:
1 1/2 oz Pepper infused Silver Patron
1 1/2 oz Blue Curacao
4 oz Sour Mix
1 Splash Sweetened Lime Juice
Shake and serve in a salted pint glass and a grape tomato, sport pepper, and lime garnish. For more information, please go to http://www.GrandCypress.com.
Naples Bay Resort's Blue Water Grill serves up several dozen Strawberry Mango Margaritas a day. The Strawberry Mango Margarita will cool reveller's off in the summer and inspire in the winter. Win-win situation, for sure!
2 cups fresh strawberries (frozen will do if you don't have access to fresh)
1 cup Mango Juice
2 1/2 cups crushed ice
1/2 cup Patron Silver
2 Tbsp. fresh lime juice
1/4 cup sugar
3 Tbsp. Triple Sec
Combine strawberries, ice, tequila, lime juice, sugar, and liqueur in a blender, and process until the mixture is smooth. Pour the margaritas into 4 large glasses. Garnish margaritas with a lime wedge, if desired. Serve immediately.
For more information on Naples Bay Resort, please visit http://www.naplesbayresort.com.
Cheers!
# # #
About Personal Luxury Resorts & Hotels®
Personal Luxury Resorts & Hotels® includes unique hand-picked properties in spectacular U.S. destinations coast to coast. Each hotel and resort delivers personal luxury in a spirit true to its own distinctive locale, yet in keeping with the collection's shared mission. They represent a select portfolio of Benchmark Hospitality International®, which has been a leading US-based hospitality management company for over 30 years. Personal Luxury Resorts & Hotels is the preferred choice of guests who yearn for transformation over accommodation, customization over conformity, and inspiration over predictability. With Personal Luxury Resorts & Hotels, luxury is always personal. http://www.personalluxuryresortsandhotels.com.
To become a fan on Facebook, visit http://www.facebook.com/PersonalLuxuryResortsandHotels, or follow us on Twitter at http://www.twitter.com/PersLuxResorts.