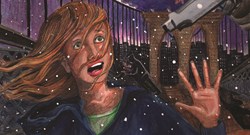 Civilizations are defined by their stories. Those stories can be the inspiration for future heroes and heroines.
Massapequa Park, NY (PRWEB) February 20, 2014
Teen mystery writer Linda Maria Frank shares her thoughts about the craft of writing, providing valuable tips and insights into what it is like to write, publish and market a mystery series. Her book interviews can be seen on The Authors Show website. Her featured article can be read in "50 Great Writers You Should Be Reading," available on The Authors Show website.
From the back cover of the book: "This book offers the stories of fifty authors. As guests of The Authors Show, they have willingly bared their writer's souls to the world. Here you will find amazing stories of success and dismal tales of failure. You will hear narratives of dreams achieved and stories of hopes dashed. Above all you will hear, from the mouths of these writers, what it means to be a successful writer."
About Linda Maria Frank
Linda Maria Frank's life-long career has been in teaching. She taught science, ending her career in the high school as Department Chairperson, teaching biology, chemistry and forensic science. She went on to teach at Hofstra University, forensic science and biotechnology, also supervising science student teachers at Adelphi University. Presently. Frank has written and now markets her Annie Tillery Mysteries, a series for girls of all ages. Find lesson plans for the books on http://www.annietillery.com. She now produces a TV show, The Writer's Dream, on LTV-EH, a local access station in East Hampton, as well as Long Island Cablevision. She interviews guests who are involved with writing, publishing and marketing in all genres. Her goal is to find venues to help market her books to schools and libraries, eventually gaining entrée into film and television, hoping for the big or little screen, not just Kindle and Nook. Also find Annie Tillery Mysteries on digital audio at audible.com