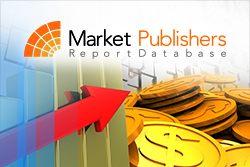 London, UK (PRWEB) February 18, 2014
Market Publishers Ltd is happy to become a media partner of the Innovative Mobile Payments, Security & Cards 2014 Brussels (4th Edition), taking place on 19 and 20 March, 2014, in Brussels, Belgium.
In the recent past, remarkable technology developments have helped mobile payments exhibit burgeoning growth in the domain of financial services. Text- and services-based payment and communications among devices in close proximity are springing up from pole to pole. The growing popularity of smartphones and the usage of mobile devices for tasks far beyond communication serve as key drivers of a heightened interest in mobile payments. Additionally, improvements in hardware and software security techniques have allowed for the conduction of trusted financial transactions through such devices.
Innovative Mobile Payments, Security & Cards 2014 Brussels (4th Edition) is the wonderful meeting place for those who strive to secure profits under competitive pressures, get to know the globe's leading smart cards industry players, observe how differences in regulatory landscape and culture impact the choice of products, anticipate customers' reaction to product innovations, and a lot more.
Event Details:
Innovative Mobile Payments, Security & Cards (4th Edition)
Date: March 19-20, 2014
Venue: Hotel Metropole – Brussels, Belgium
http://marketpublishers.com/events/innovative_mobile_payments_security_Cards_4th_Edition.html
Key Topics to Be Raised at the Conference Include:

Brand-new technologies in mobile payments.
Online fraud management.
Strategies to build up a reputation on innovative mobile payment products.
Mobile payments excellence.
Creation of the effective strategy for new mobile application development.
and a lot more …
The Conference is targeted to General Managers, Vice President and Senior Directors of Marketing, Mobile Products, Cards and Payments, Fraud Management, Non-Financial Corporations, Security, Strategy, Business Development, Communication, Strategic Communication, Technologies, New Products Developments, among others.
Please note that Market Publishers' registered customers are eligible for special discounts.
To register at MarketPublishers.com please visit our Registration Page.