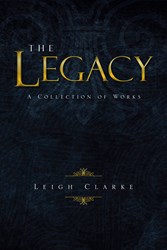 Dallas, Texas (PRWEB) February 19, 2014
February is "Creative Romance Month." The whirlwind romance of journalists Alec and Kate is just one of the enchanting narratives exposed in author Leigh Clarke's collection.
Clarke's new book, "The Legacy," is a compilation of her short stories and novellas from 2010 to 2013. With each story containing its own unique characters and plotline, Clarke incorporates mystery, crime, romance and history all into one book.
"I write about things I know and places that I have lived or visited," Clarke said. "I always try to incorporate travel, cuisine and romance."
Clarke takes readers to unforgettable travel destinations, uncovers thrilling mysteries and provides a deep look into the history of our ancestors. As they dive into each new adventure, readers are bound to identify with one or more of the dynamic, lovable characters.
Clarke, an accomplished writer and avid traveler, gives readers a taste of every genre in "The Legacy."
"The Legacy"
By Leigh Clarke
ISBN: 978-1-4907-1527-8
Available on Amazon, Barnes & Noble and Trafford online bookstores.
About the author
Leigh Clarke spent her early life on an isolated ranch in northeastern Wyoming before receiving a bachelor's degree in fine arts and later a master's degree in creative writing. She currently lives on a ranch in the north hill country of Texas, where she finds time for her writing and her beloved pups, Beau and Bandit.