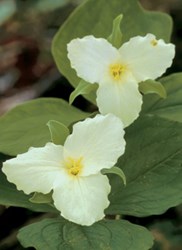 No trip to the Smokies in spring is complete without a wildflower walk.
Pigeon Forge, TN (PRWEB) February 18, 2014
With the weather changing and trees blooming, there is little doubt that spring is arriving in the mountains of East Tennessee. As a celebration of the most beautiful time in the Smoky Mountains, Cabin Fever Vacations announced the top three hiking trails for wildflower viewing.
"No trip to the Smokies in spring is complete without a wildflower walk," said a spokesman for Cabin Fever Vacations. "There are more than 1,500 plant species in the Great Smoky Mountains National Park, which is why visitors call the park the 'Wildflower National Park.'"
With colorful blooming from early spring to late summer, the Great Smoky Mountains National Park has more flowering plants than any other North American National Park. Topping the cabin provider's list of wildflower viewing sites is Little River Trail. The 4.9 mile roundtrip hike is full of wildflowers from March through late April. Early in the season, hikers find Canadian violets, yellow trillium and stonecrop.
During late March, Porters Creek Trail is covered with violets, bloodroot and white fringed phacelia. In April, the one and a half mile trail is covered with dwarf ginseng, woodland bluets and wild geranium.
As the shortest trail included in the announcement, the Cove Hardwood Self-Guided Nature Trail is a 0.75 mile trail that begins 4.4 miles south of the Sugarlands Visitor Center. According the Cabin Fever Vacations, the nature trail is overflowing with spring foliage from March through May. March boasts hepaticas and trout-lilies, while April and May blooms wild ginger, white fringed phacelia and other colorful wildflower blooms.
Cabin Fever Vacations invites guests of the Smoky Mountains to stay in their Gatlinburg cabins. Located in the heart of the Smokies, the cabins feature panoramic mountain views. Large windows and covered porches look out onto views of forests and seasonal blooms.
Established in 2000, Cabin Fever Vacations is a Tennessee-licensed, premier cabin rental company, offering the finest and most affordable luxury log cabins in the Smokies. With properties in Gatlinburg, Pigeon Forge, and Sevierville, Cabin Fever Vacations have cabins to meet every need. Cabin Fever Vacations office is located at: 2519 Sand Pike Blvd., Pigeon Forge, TN 37863. For more information regarding attraction packages or to create a customized attraction package, contact reservations(at)cabinfevervacations(dot)com or link to http://www.cabinfevervacations.com/ or call (866) 212-2246.