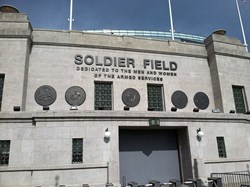 Chicago (PRWEB) February 18, 2014
Ticket Down has reduced prices for the friendly soccer match between Bosnia-Herzegovina and Mexico at Soldier Field on June 3rd. With the large Bosnian and Mexican population in the Chicago metro area, tickets for this match will sell out very quickly. The friendly match between Bosnia and Argentina in St. Louis last November brought in thousands to cheer on their favorite team. The upcoming match in June between Mexico and Bosnia will undoubtedly attract diehard soccer fans in the Chicago metro area.
In the build up to the 2014 World Cup in Brazil, most national soccer teams are playing international friendly matchups around the world. These games help these teams prepare their strategy, determine their roster and their starting lineup. Among the teams that will be able to this are Bosnia and Herzegovina and Mexico, who will play on June 3 at Soldier Field in Chicago Ill. The game will be the second to last warm up before traveling to South America for Mexico and will be the final warm up for Bosnia and Herzegovina before their first ever trip to the World Cup.
Bosnia and Herzegovina is currently ranked as the 17th best team in the world according to the Fédération Internationale de Football Association, or FIFA. They have slowly been building their team up to one that can be considered one of the best in the world and could do big things when they travel to Brazil. They advanced to the World Cup by finishing first in their qualifying group with 25 points. They were 8-1-1 and had a +24 goal differential, which gave them the tie-breaker over Greece. In Brazil, they will compete in Group F against Iran, Nigeria and their first ever World Cup opponent will be former champions, Argentina.
Mexico will be competing in their 15th World Cup this year and will be looking for a better finish than they have seen in their history. They are currently ranked as the 20th best team in the world according to FIFA and will be competing in Group A against host nation Brazil, Cameroon and Croatia. Their two best performances in the World Cup came as the host nation, while they have failed to finish in the top 10 in any other appearance. In the 2010 World Cup help in South Africa, they finished in 14th place, reaching the Round of 16.
Bosnia and Herzegovina will be led in this matchup with Mexico and in the World Cup by Vedad Ibisevic (52 caps, 20 goals), who scored the clinching goal in their qualifying group. The team will also be led by current captain, Emir Spahic (71 caps, 3 goals), Miralem Pjanic (46 caps, 8 goals) and Edin Dzeko (59 caps, 33 goals). The team will also have several younger players with less than a dozen caps that will help pace them.
The Mexican national team has more of a veteran presence than their opponents for this game including Rafael Marquez (116 caps, 14 goals), Francisco Javier Rodriguez (89 caps, 1 goal), Jesus Zavala (29 caps, 2 goals), Oribe Peralta (29 caps, 16 goals) and their keeper Jose de Jesus Corona (32 caps).
Soldier Field was first opened in 1924 and has seen several renovations over the years. The venue is home to the Chicago Bears of the National Football League and has been home to dozens of soccer matches before, having been the home of the Chicago Fire from Major League Soccer. The stadium can seat more than 61,000 fans and will likely be packed for this soccer match.
About TicketDown.com:
Ticket Down delivers tickets to sold out concerts and events worldwide when no one else can, and they do so at discounted prices. As a member of TicketNetworkDirect, they can guarantee the delivery of tickets on time for sporting events like NASCAR, NBA, NFL, and NHL. This popular ticket exchange also has Bosnia vs. Mexico soccer tickets at great everyday low prices.