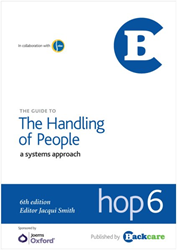 An evolution in the handling of people guidance.
(PRWEB) March 11, 2014
The gold standard training text for the manual handling of people launches in North America. Leading the UK field since the early 1980s, the Guide to the Handling of People series is now in its pivotal 6th edition.
The ground-breaking systems approach balances the twin aims of patient safety, dignity and enablement, with the prevention and management of work relevant muscular skeletal disorders in health and social care workers.
Published by the BackCare, UK's national charity for back and neck pain, the evidence-based HOP6 training text has been peer reviewed by acknowledged experts in the manual handling field and widely acclaimed and officially endorsed by authorities in health and care training and regulation.
"An evolution in the handling of people guidance." – Peggy Frost, Head of Professional Practice, College of Occupational Therapists, UK
"Essential reading for all those with a responsibility for handling people." – Julian Topping, Programme Lead, NHS Employers, UK
"We commend this new edition to nursing and caring professions at all levels." – Dr Peter Carter, Chief Executive, Royal College of Nursing, UK
Pioneering, acclaimed, essential. The 6th Edition Guide to the Handling of People is now available in North America for a special introductory offer of $77.98 (including shipping).