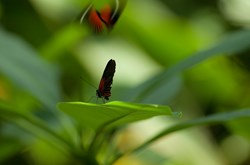 "Where else in the Midwest can you walk into a 15 thousand square-foot tropical environment and be instantly immersed in warm temperatures and thousands of exotic butterflies?" asked Steve LaWarre, director of horticulture.
(PRWEB) February 18, 2014
Frederik Meijer Gardens & Sculpture Park's 19th annual Butterflies Are Blooming exhibition will bring more than 7,000 tropical butterflies to West Michigan. Arriving from Africa, Asia, South and Central America, over 40 colorful species will fly freely in the five-story Lena Meijer Tropical Conservatory. A visitor favorite, Butterflies Are Blooming is the largest temporary tropical butterfly exhibition in the nation and opens to the public on March 1.
Visitors are invited to explore this year's focus on unique "hot spots" for places to see butterflies, plants that attract them and the warm, tropical environment.
"Where else in the Midwest can you walk into a 15 thousand square-foot tropical environment and be instantly immersed in warm temperatures and thousands of exotic butterflies?" asked Steve LaWarre, director of horticulture. "This exhibition gives you the opportunity to experience something different—a taste of the tropics and special winged visitors-- right here in West Michigan."
The conservatory boasts a balmy 85 degrees and 70 percent humidity, perfect for tropical butterflies such as the longwing Heliconius, the blue Common Morpho, the streaked Tree Nymph and the tail-less Scarlet Mormon. Visitors are sure to find butterflies in "hot spots" around the orchid wall, along streambeds or near the many feeding stations. Butterfly favorites include plants such as the orange Jessamine, Bahama buttercup and the Mexican honeysuckle.
More than 800 pupae arrive at Meijer Gardens weekly. Visitors can watch as delicate chrysalides and cocoons are placed in the Butterfly Bungalow, where adult butterflies emerge and spread their wings for the first time. The Caterpillar Room, located within The Seasonal Display Greenhouse, features Monarch caterpillars. Visitors can watch as the caterpillars feed on milkweed. plants and after two weeks of tremendous growth, the caterpillars will look for a suitable place to form their chrysalides.
This much-loved exhibition attracts more than 150,000 visitors from all over the nation each year.
Exhibition Activities
"Who Am I?" A Butterfly Ballet
Saturdays, March 8 OR 22, 10 a.m. or 12 p.m.
Fee: $5 members/$8 non-members; Free for ages 2 years and younger
Choreographed by Attila Mosolygo, performed by members of the Grand Rapids Ballet Junior Company and narrated by Errol Shewman
Developed in collaboration with Grand Rapids Ballet, this unique performance highlights characteristics of butterflies through dance. Don't miss this thoroughly delightful butterfly ballet. Told through the eyes of a newly emerged butterfly, the story will captivate young and old alike. With colorful costumes, spectacular music and exquisite choreography, this enchanting performance will provide a unique and memorable experience. Participate in interactive dance activities before the performance, starting at 9:30 a.m. or 11:30 a.m. and take advantage of photo-ops on stage with the dancers afterward. Register online at MeijerGardens.org or call 616-975-3147. An American Sign Language interpreter will be provided for the 10 a.m. performance on March 22. Made possible by The Bank of Holland.
Tuesday Night Lights
Bring your flashlights on Tuesday nights until 9 p.m. to see the nightlife in the Tropical Conservatory.
Children's Activities
Saturday, March 1-Wednesday, April 30, daylight hours only
In the Lena Meijer Children's Garden
Once you have observed caterpillars in the Seasonal Display Greenhouse and butterflies in the Tropical Conservatory, come out to the Children's Garden for some engaging outdoor education. Enjoy activities such as flying like a butterfly in clever lifecycle costumes, performing imaginative butterfly puppet shows, reading from charming butterfly storybooks, or hunting for Michigan butterfly replicas in the Treehouse Village. There's something for all ages. Activities vary daily. Check the Information Center for what is happening each day.
The exhibition is made possible by DTE Energy Foundation, The Meijer Foundation, Botanic and Sculpture Societies of Frederik Meijer Gardens & Sculpture Park. This year's media sponsors are Channel 95.7 FM and 100.5 FM The River.
# # #
Images available upon request. View thumbnails: http://www.meijergardens.org/storage/docs/IMAGES_BAB2014.pdf
About Frederik Meijer Gardens & Sculpture Park
One of the world's most significant botanic and sculpture experiences, Frederik Meijer Gardens & Sculpture Park serves more than 550,000 visitors annually. Meijer Gardens was recently ranked in the top 100 most–visited art museums worldwide by "Art Newspaper," the leading publication in global art news. The 132–acre grounds feature Michigan's largest tropical conservatory; one of the largest children's gardens in the country; arid and Victorian gardens with bronze sculptures by Degas and Rodin; a carnivorous plant house; outdoor gardens; and a 1900–seat outdoor amphitheater, featuring an eclectic mix of world-renowned musicians every summer. The internationally acclaimed Sculpture Park features a permanent collection including works by Rodin, Moore, Bourgeois and Plensa, among others. Indoor galleries host changing sculpture exhibitions with recent exhibitions by Picasso, Degas, di Suvero, Borofsky, Calder and Dine.