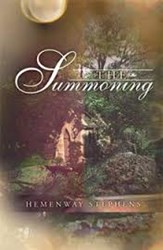 "All characters reflect my own respect and envy for people who possess the courage to step outside their definitions and change their lives so adroitly and passionately."
Scranton, PA (PRWEB) February 18, 2014
We tend to think we're more sexually adventurous than previous generations. After all, they didn't really have all of those positions back then, did they? Clothing styles and vocabulary may have changed, but not the desire for satisfying sexual relationships.
In her novel The Summoning, Hemenway Stephens tells the titillating story of two women, centuries and continents apart, who find themselves living unimagined futures when they decide to embrace their sexual longings.
"All characters reflect my own respect and envy for people who possess the courage to step outside their definitions and change their lives so adroitly and passionately," says Stephens.
In The Summoning, two novellas celebrate an astonishing transformation of character when boisterous, fanciful and sometimes comical eroticism is fully embraced.
"The Clearing" introduces us to Anna, daughter of the owner of a vast estate in England in the 19th century. She and her highly imaginative partner Guillame procure clients for raucously sexual appointments with Anna. This audacious moneymaking scheme has surprising repercussions for Anna and Guillame, as well as future generations, as seen through the adventures of Melissa Marley, heroine of "The Awakening."
"The Awakening" is set in contemporary Ohio. Melissa's sudden transformation has life-changing consequences for those around her, and poses the intriguing possibility that the two novellas may be more connected than first supposed.
Stephens has enjoyed a successful career in theatre, but it was her imagination that lead to the seductive scenarios presented in The Summoning. Her book combines scandalous and daring sexuality with intelligence, wit, the vulnerability of dreams and the terror of true love.
About the author
Hemenway Stephens received her Master of Fine Arts in theatre arts and works as a professional actor, director, playwright and a visiting instructor at various colleges. She has been married for 30 years and lives in Scranton, Pennsylvania.