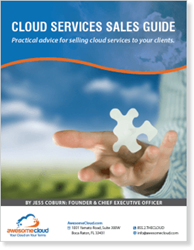 Boca Raton, FL (PRWEB) February 19, 2014
Awesome Cloud Services recently published a step-by-step cloud computing sales guide designed to help IT service providers sell more cloud services and generate additional recurring revenue.
Download the free eBook:
http://www.awesomecloud.com/channel-partners/resources/eBook/
The cloud computing sales guide provides insightful information and tips for technology providers that help IT services providers explain the fundamental of cloud computing, relating cloud computing with analogies, provide organizational specific benefits, overcoming objections, and recommend appropriate deployment models.
About AwesomeCloud:
AwesomeCloud is a White Label Cloud Services Provider offering cloud computing services to the IT channel. AwesomeCloud offers a wide range of secure, cloud computing solutions, including Infrastructure as a Service (IaaS), Business Continuity and Disaster Recovery, Hosted Desktop, and SaaS licensing.
Contact:
Jason Lurcott
Marketing Manager
Awesome Cloud Services, LLC
Direct Line: 561.948.4046
jason(at)awesomecloud(dot)com