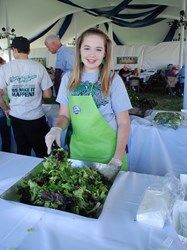 Knowing where your food comes from is the first step to being a responsible and knowledgeable consumer of fresh fruits and vegetables. - Caitlin Antle Wilson
Yuma, AZ (PRWEB) February 19, 2014
Look for Tanimura & Antle in the Toss it Up Salad Bar arena and at the Plant-a-Pot interactive booth at Yuma Lettuce Days March 1 – 2, held at the Quartermaster Depot State Historic Park. This is the fourth consecutive year that Tanimura & Antle has supported this community festival that celebrates Yuma's agricultural industry through interactive displays and culinary demonstrations. The Tanimura & Antle families have a long history of supporting agriculture education and childhood nutrition initiatives in the communities where they have farming operations and a strong employee presence.
The Toss it Up Salad Bar, sponsored by Tanimura & Antle, invites guests to create their own fresh salad masterpiece using Tanimura & Antle fresh vegetables locally grown in Yuma, the produce industry leader's winter farm and harvest location. Each year, Tanimura & Antle invites volunteers from local youth organizations to help at the salad bar, earning donations for their clubs and getting a hands-on experience with a local ag company. This year volunteers from the Gila Ridge FFA will serve on Saturday and Yuma Valley Achievers 4-H club will serve on Sunday. Salad Bar tickets are $2.00 each, which entitles each guest to a free package of Tanimura & Antle Artisan® Romaine Lettuce to take home and enjoy.
The Plant-a-Pot booth is a collaborative effort between Tanimura & Antle and the Western Growers Foundation. Each child can plant a seedling to take home to tend and grow, providing a practical demonstration about where their fresh food comes from.
"At Tanimura & Antle, we continue to support education programs with our public, especially children that teach about the produce supply chain. Knowing where your food comes from is the first step to being a responsible and knowledgeable consumer of fresh fruits and vegetables," commented Caitlin Antle Wilson, Sales Service Manager and fourth generation family member.
Volunteers at this booth include parents and students from local Yuma schools who have received a Western Growers Foundation School Garden Grant, and who also have incorporated a garden-enhanced curriculum into their lesson plans.
About Tanimura & Antle
Tanimura & Antle is an industry leader whose commitment to premium quality produce has remained strong since its formation in 1982. The Tanimura & Antle families combined years of experience and knowledge to establish a produce company unrivaled in its quality products, innovation and dedication to growers, customers, consumers and employees. Today, as one of the largest independent lettuce growers in the United States, Tanimura & Antle farms more than 30,000 acres of rich, fertile farmland and ships a full line of premium fresh produce products throughout North America, Europe and Asia. For more information, please visit http://www.taproduce.com.
About Yuma Lettuce Days
Visit http://www.yumalettucedays.com.
About Western Growers Foundation
Visit http://www.westerngrowersfoundation.org.