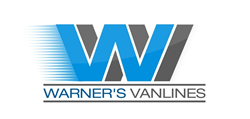 When trusting someone with all of your possessions, it's important to make sure you're working with a licensed company
New York,NY (PRWEB) February 27, 2014
Warner's Van Lines, a New York City moving company, has released a new report on the 26 unlicensed New Jersey Moving companies that were cited for violating state law. The report can be seen on the company's blog.
Twenty-six unlicensed moving companies were cited with violating New Jersey state law in January, according to a news release that was released on Jan. 13 by the State of New Jersey Department of Law and Public Safety.
All 26 companies face civil penalties of $2,500 each, and two of the companies face additional Federal penalties of $25,000. Many of the moving companies solicited customer's through websites, such as Craigslist, Angie's List, third-party moving websites and the companies' own websites.
"When trusting someone with all of your possessions, it's important to make sure you're working with a licensed company," said John King, spokesperson for Warner's Van Lines.
The New Jersey Division of Consumer Affairs offered the following tips for consumers hiring movers:
Do not pack valuable items, such as jewelry or cash.
Obtain a written estimate before your move.
If items are lost or damaged, notify the moving company immediately and file a damage claim.
The Federal Motor Carrier Safety Administration received more than 3,100 complaints about household good movers in 2012. In 2013, the most common consumer complaints against moving companies included unauthorized movers, shipping delays, lost and damaged goods, items being held hostage and deceptive practices.
Warner's Van Lines offers free on-site estimates for all commercial and residential moves. Potential movers can also receive a free quote by filling out a form at http://www.warnersvanlines.com.
About Warner's Van Lines:
Warner's Van Lines is a New York City moving company that specializes in local and long-distance residential moves and corporate relocation in and around the New York City area. The company also offers insurance, packing and storage services. For more information about Warner's Van Lines or to receive a free moving estimate, please visit http://www.warnersvanlines.com.