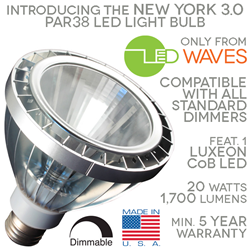 Brooklyn, New York (PRWEB) February 18, 2014
LED Waves is pleased to announce the release of the New York 3.0 Dimmable LED PAR38: the latest update to their exclusive line of American-made LED light bulbs. Like its predecessor, the New York 3.0 is designed, assembled and tested onsite at LED Waves headquarters in NYC; giving it higher quality assured by a five year warranty.
Inspired in part by the success of the Owl™ Outdoor LED Wall Pack released last year, LED Waves' engineers also gave the New York 3.0 a single high-powered Chip-on-Board (CoB) LED rather than the array of twelve chips soldered onto their earlier PAR38 lamps. CoB construction is solder-free. This reduces stress points, simplifying and strengthening the design of the entire LED lamp.
The use of a single CoB LED gives this PAR38 a more concentrated spotlight with crisp beam edges. It also provides more uniformity in light and color from one LED bulb to the next, which is a major consideration for lighting specifiers.
LED Waves' R&D department partnered the New York 3.0 with Philips CoB technology. The LUXEON 1203 LED provides even higher lumen output (capable of efficacy up to 130 lumens per Watt) from the industry's smallest Light Emitting Surface (LES).
All LED light bulbs require a heat sink (usually fanning out from the LED board in the center, creating the bulb shape) to dissipate heat away from the electronics, lengthening their overall operating life. The compact footprint of the LUXEON allows this PAR38 to use a lighter heat sink, addressing the weight issue typically associated with LED halogen replacements. The New York 3.0 LED PAR38 features a lightweight "open air" heat sink, machined from aircraft-grade aluminum to fit standard PAR38 ceiling cans and spotlight fixtures.
In addition to its strikingly unique new heat sink, the updated LED PAR38 also features a scooped reflector which optimizes lumen output and reduces glare, making it ideal for commercial retail displays and high-traffic residential lighting applications alike.
The Dimmable New York 3.0 PAR38 LED light bulb is compatible with standard halogen and incandescent dimmers. Each one is built-to-order in warm white (3000K) or neutral white (4000K). It is available for pre-order online at LEDWaves.com or by calling 1(800)986-0169.
About LED Waves
LED Waves is a supplier and Original Equipment Manufacturer based in New York City, dedicated to helping businesses and homeowners alike save money and energy with high performance, low cost LED lighting. The small but knowledgeable staff represents four family generations of lighting sales. LED Waves is a Service Disabled Veteran Owned Small Business.