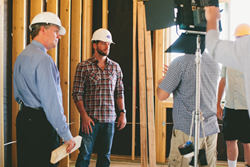 Austin, TX (PRWEB) April 03, 2014
Builders Digital Experience, Inc. (BDX), leading provider of digital marketing solutions for builders, announced today that NewHomeSource TV is now airing in Dallas, Austin and Washington, D.C. The local shows air on Sundays on major network stations. For complete details and airtimes, visit http://www.newhomesource.tv.
New Home Source TV is the companion television program for the leading new home website, NewHomeSource.com. The show combined with online visitors to NewHomeSource.com reaches over 1 million unique visitors a month.
"We are proud to work with so many terrific local builders and product suppliers to bring New Home Source TV to these markets," said Tim Costello, chief executive officer at BDX. "We know that over 50 percent of home buyers are considering new homes as they begin the home shopping process , this show will help shine the spotlight on new home advantages."
During each episode, host and certified home inspector, Brett Tutor takes viewers on a behind the scenes tour of 2-3 local communities, providing a glimpse of the latest floor plans, design trends, green features and neighborhood amenities from the hottest new home builders. Architects, designers, contractors and other experts also contribute to the show by highlighting the more subtle benefits of today's new homes, such as modern construction techniques and the lower cost of living that comes with owning a truly new home.
"We are so excited to be teaming up with the New Home Source TV show. We feel that the show has a unique appeal to homebuyers and explains the benefits of why buying a new John Houston Custom Home is so beneficial," said Meagan Mitchell of John Houston Homes.
In addition to the weekly broadcast on a local network, the show is also distributed online and available for viewing on NewHomeSource.tv.
Builders interested in finding out more about New Home Source TV should contact BDX at info(at)thebdx.com or by phone at 1-866-651-8866.
About Builders Digital Experience
Builders Digital Experience, LLC (BDX), a joint venture between Move, Inc. (NASDAQ:MOVE) and Builder Homesite, Inc., was founded to combine the industry's leading new home resources under one roof and offer builders innovative online marketing options, streamlined customer service and support, and greater value. Capitalizing on over 13 years of building industry experience, BDX operates http://www.newhomesource.com, the leading new home website, while also providing other services to builders, including video production, rich media rendering, mobile search, custom website production and more. For more information, visit http://www.thebdx.com.