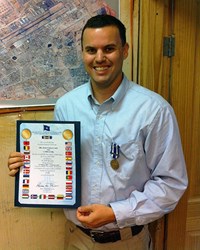 Through this project, we have been able to demonstrate our sense of stewardship for the places we work and the communities we impact.
Morristown, N.J. (PRWEB) February 19, 2014
Jedd Narsavage, a Louis Berger Group, Inc. (Louis Berger) site manager and senior master planner at Kandahar Airfield (KAF), Afghanistan, was awarded the North Atlantic Treaty Organization [NATO] Non-Article 5 International Security Force (ISAF) Medal for "Service to Peace and Freedom." Regularly given to active duty NATO personnel and to Department of Defense civilians, it is rare for a contractor to be awarded this medal.
Brigadier General Michael Fantini, Commander, Kandahar Airfield (NATO), presented Narsavage with the award for his work coordinating NATO's drawdown of the base in preparation for the eventual withdrawal of NATO combat forces from Afghanistan.
"Jedd Narsavage embodies Louis Berger's commitment to responsibly rebuilding the country of Afghanistan and creating lasting infrastructure for the Afghan people," said Thomas G. Lewis, Louis Berger president. "Through this project, we have been able to demonstrate our sense of stewardship for the places we work and the communities we impact."
This project will transition KAF from a critical NATO military asset into an airport that the Afghanistan government can successfully manage and maintain. Narsavage helped unite leaders from different organizations and countries to understand how proposed changes during the transition would impact operations.
"This is the most challenging, but also the most rewarding, project I've worked on because the stakes are so high," said Narsavage, who has worked on the project for a year. "Everyone involved wants to set Afghanistan on a path of success for years to come."
Currently, KAF is the second largest NATO base in Afghanistan and host to the busiest single-strip runway in the world. This airstrip has accommodated the arrivals and departures of thousands of troops, countless pallets of supplies and millions of pounds of munitions necessary to maintain the war effort in southern Afghanistan.
Louis Berger is one of the largest contractors to provide construction management services for the U.S. government in Afghanistan and Iraq, having completed more than 20 large-scale post-conflict redevelopment projects within the past 12 years.
About The Louis Berger Group, Inc.
The Louis Berger Group is an internationally recognized consulting firm that provides engineering, architecture, program and construction management, environmental planning and science and economic development services. We are a trusted partner to federal, state and local government agencies; multilateral institutions; and commercial industry. To this diverse client base, we bring strategic vision and an entrepreneurial spirit, developing innovative solutions to some of the world's most challenging problems. With a resource base of more than 6,000 professionals and affiliate employees in more than 50 countries, we are able to respond to local conditions while providing clients with the technical resources and rapid response capabilities of a leading global organization.