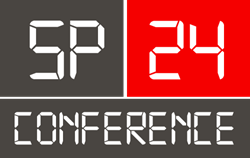 This is a very ambitious conference, in which we plan to deliver over 90 hours of up to date SharePoint training to delegates all over the world, working in organization's ranging from charities in Australia, to large corporates based in the USA
(PRWEB) February 19, 2014
Collaboris, a UK-based Software Vendor, are working as part of the core team to develop and organise what is likely to be the world's largest virtual SharePoint Conference known as SP24. On April 16th at 10pm GMT. SP24 will kick off with a keynote by Microsoft SharePoint Product Manager, Bill Baer, to an estimated 5,000 on-line attendees. After the Keynote, the Conference will then split into 4 tracks where 1 session per hour will be streamed live to SharePoint attendees seated in virtual session rooms on SP24Conf.com. The conference is unique in that it will last for a total duration of 24 hours and will feature a mixture of speakers from around the Globe.
Mark Jones, Founder of Collaboris and part of the SP24 core Team, stated that "This is a very ambitious conference, in which we plan to deliver over 90 hours of up to date SharePoint training to delegates all over the world, working in organization's ranging from charities in Australia, to large corporates based in the USA." Jones also adds that "the variety of the registered attendees is quite remarkable – we have attendees representing over 85 countries with all levels of expertise from complete novice to seasoned pro's."
SharePoint is now prolific in most organizations across the world...
SharePoint is a Microsoft platform used for CRM Solutions, Personal Organizers, Interactive web-sites, Document and content management platforms, Shared calendars and contact databases, to name but a few. SharePoint is now 10 years old and is the market leader, purported to be growing at the rate of 20,000 users per day. It is also used in 80% of Fortune 500 companies. SharePoint's popularity is one of the major reasons why SP24 has already attracted 3,500 delegates in just 7 weeks.
SP24 takes place 6 weeks after Microsoft's SharePoint Conference in Las Vegas...
SP24 takes place roughly 6 weeks after Microsoft's main conference that is being held in Las Vegas. This conference is usually a sell out and can sometimes attract 10,000 delegates eager to learn more about what has rapidly become one of the most popular platforms in the world. SP24 is deliberately timed, as it aims to share any product announcements that are made in Vegas as well as offer a good break for speakers who are speaking at both conferences to prepare properly for SP24.
The Conference Platform is built on SharePoint...
The platform that will be used to deliver the virtual conference has been built entirely from the ground up by the SP24 Team using SharePoint 2013 Foundation. Although, this proved a challenge to achieve due to the cost and effort involved compared to other solutions such as Wordpress, the team were very eager to deliver the SharePoint conference utilizing the very same technology that will form the main focus of the conference. To meet the demands and scale required on the conference day, the SP24 Team have partnered with Fpweb.net who specialise in SharePoint Hosting.
Where possible, the use of 3rd party vendors has been utilized to speed up the development process. These include products from Jones's own company; DocRead - used to request that attendees, speakers and sponsors read and confirm key documents; and DocSurvey - which will be utilized for surveys and quizzes on the sessions. Additionally, Extradium, by Riolinx, has been used to manage the registration and authentication process. This illustrates just how rich the SharePoint add-on's Eco-system has become as products are able to extend and seamlessly integrate straight into SharePoint.
A great way to meet speakers and make friends...
Much effort has also been put into making the conference a very social and enjoyable experience. SP24 will have fully integrated chat rooms which will offer attendees the opportunity to ask the speakers questions and also chat with others about the topics that are being covered. Social networks such as Twitter and Facebook will also be a big focus for the conference day as they will allow people to follow the action via the news updates.
A truly international team...
SP24 has been a truly international Conference from the outset. The SP24 Team compromises individuals from the UK, Sweden, Austria, India and Canada who have regular virtual meetings, often using the same technology that will be used on the day. Matthias Einig, SP24 Team member, states that "Without having the opportunity to test the infrastructure ourselves, we would never be able to experience what it will be like on the day."
SP24 is free...
One other notable benefit to SP24 is that it's free for anyone to join, which is a marked difference from 'off-line' conferences. Stefan Bauer, SP24 Team member, explains that "Although, a virtual conference has some overheads, in comparison to an offline one, they are generally lower. By working with a few partnering companies who are keen to gain mind-share in the SharePoint market, we are able to offer it free of charge for all delegates."