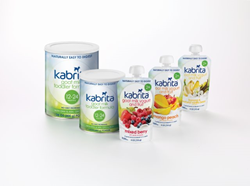 Naturally easy to digest!
Anaheim, California (PRWEB) March 05, 2014
Kabrita is a new line of gentle goat milk foods for toddlers, launching at Natural Products Expo West this weekend (March 6-9). Kabrita's naturally easy to digest Goat Milk Toddler Formula and Goat Milk Yogurt and Fruit are made with non-GMO ingredients – and little ones say they taste great!
Kabrita co-founder, Naturopathic Doctor Kate Morrison, has been recommending goat milk to patients with cow milk sensitivities for years. Goat milk shares many properties with human milk, including smaller fat globules and gentle proteins that are easy on little tummies. That means even toddlers with cow milk intolerance can enjoy it.
Kabrita is committed to quality, so to deliver the best to little ones, it is partnered with Hyproca Nutrition, a global company with over 70 years of infant nutrition expertise, to make gentle milk foods.
Kabrita is about more than feeding children great food. It's about helping parents nourish their intuition, and bridge the gap between the ideal of all-natural and the realities of life. We believe it takes education and dialogue to help parents make nutritional choices for their children with confidence and joy.
If you're planning on attending Expo West, join the conversation. Contact Kabrita today to book a meeting with our co-founders, or stop by booth 5090.