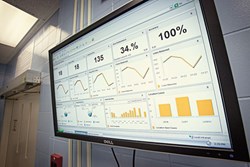 "We welcome the opportunity to be a part of the 2014 Intelligent Hospital™ Pavilion and showcase, our end-to-end inventory management solutions." - Solstice CEO Todd Melioris
Columbia City, IN (PRWEB) February 19, 2014
This is the first year Solstice Medical will be featuring its new Surgical Supply Chain Business Intelligence Platform in the Intelligent Hospital™ Pavilion, simulating the latest technologies in an expanded healthcare environment.
Solstice's healthcare information technology (HIT) platform, DOCK-to-DOC® real-time inventory management solution improves patient outcomes, decreases OR time and dramatically improves provider and patient satisfaction scores through its innovative surgical workflow and proactive business intelligence applications. The system has been developed using the latest technology and is able to be deployed in a variety of healthcare supply chain environments, from patient billing through the operating room.
"We welcome the opportunity to be a part of the 2014 Intelligent Hospital™ Pavilion and showcase, our end-to-end inventory management solutions are the only technologies on the market that seamlessly offers you the control you desire with actionable business intelligence to improve your operations," stated Solstice CEO Todd Melioris. "Our DOCK-to-DOC® open architected platform will also show participants how to leverage their existing IT investments across their surgical supply chain," continued Melioris.
The Intelligent Hospital™ Pavilion within HIMSS14 has been designed and developed by the RFID in Healthcare Consortium (RHCC), a not-for-profit, educational organization our sponsoring technology vendors. The objective of the Intelligent Hospital™ Pavilion is to demonstrate the changing healthcare patient envi¬ronment by integrating advanced clinical devices with layers of interconnectivity among supporting technologies such as auto-ID, RFID, RTLS, Sensors, and Wireless along with point-of-care information delivery and communications devices. The combination of these clinical devices, systems and supporting technologies addresses many of the issues affecting workflow and potentially impacting patient care and safety.
"We are very pleased to have Solstice Medical be part of our Intelligent Hospital Pavilion this year, as I have followed their development for many years. I am very excited to see the progress they have made with their software and use of RFID and bar code technologies, which will help improve upon patient care and patient safety in the health industry. We wish them well," stated Harry Pappas, The Intelligent Health Association President & CEO.
The annual HIMSS conference in the U.S. ranks as one of the largest health IT gatherings in the world. Attendees who participate in the 2014 conference can select from more than 300 education sessions in more than 20 peer-reviewed topic categories, enjoy a variety of networking events, and visit an exhibit floor filled with innovations and management solutions.
Keynote speakers confirmed for HIMSS14 include:

Hillary Clinton, 67th Secretary of State of the United States; former United States Senator (NY); former First Lady of the United States
Mark Bertolini, chairman, CEO and president, AETNA
Erik Weihenmayer, world-class blind adventurer
Conference education sessions include pre-conference symposia on clinical and business intelligence, health IT and rural care, HIEs, ICD-10, innovation, interoperability, mobile health, nursing informatics, physicians' IT and more. More than 300 peer-reviewed sessions, including workshops and roundtables, along with the state of the art "Intelligent Hospital™" showcase, round out the offerings at HIMSS14.
To learn more about Solstice Medical, visit us at booth 8265-48 during HIMSS14 in the Intelligent Hospital™ Pavillion or visit http://www.solsticemedical.com/HIMSS. For more information about HIMSS14 and to register, visit http://www.himssconference.org.
About Solstice Medical LLC
Solstice Medical is committed to transforming the healthcare supply chain by providing customers with a unified surgical supply chain platform. Through real-time business intelligence and embedded workflows, Solstice helps to reduce costs, optimize resource use and increase procedure revenue.
In 2008, Solstice Medical was named "Innovator of the Year" by the Greater Fort Wayne Business Weekly, and in 2010, the Indiana Economic Development Corporation named Solstice Medical one of Indiana's "Companies to Watch." For more information visit the company's website at http://www.solsticemedical.com.
About Intelligent Hospital
The "Intelligent Hospital™" (http://www.intelligenthospital.org) which is located within the footprint of the Intelligent Hospital™ Pavilion has been created to help raise the level of awareness and to educate the healthcare industry on the many applications of Auto-ID, Biometrics, BLE, M2M, NFC, RFID, RTLS, Sensors, Mobile devices and Wireless technologies and how they can integrated within the clinical scenarios of health care facility. Visitors to the pavilion see first-hand how these technologies are able to deliver real time data from the patient's room/bedside to the clinicians smart mobile devices, thus providing care givers with real time visibility of people, assets, and processes. When properly implemented, these technologies can have a tremendous impact on patient safety and on the quality of care delivered while at the same time reducing operating expenses.
The "Intelligent Hospital"(http://www.intelligenthospital.tv) is a dynamic simulator enabling the visualization of how complex clinical devices can be coupled with layers of inter-connectivity and seamlessly integrated with a variety of complementary technologies and software to deliver critical information via mobile communication devices to the care giver.
Media Contacts
Todd Melioris (Solstice Medical) – 260-399-1625 or todd.melioris(at)solsticemedical(dot)com
Angela Bourogiannis (Director of Communications, Client Relations and Membership Development)
302.252.1933 or abourogiannis(at)ihassociation(dot)org