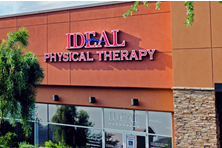 Mesa, Arizona (PRWEB) February 19, 2014
On Saturday, February 22nd from 8a.m. to 4 p.m., Dr. O'Halloran's first course is Joint Replacement Rehabilitation and on Sunday, February 23rd from 8a.m. to 5p.m. he will speak about Manual Therapy and Corrective Therapeutics of the Extremities: A "Practical" Application for the Evidence for all Clinicians. The course will be very informative offering valuable information for IDEAL's Physical Therapists with the focus being on continuing education so they are always offering cutting-edge top of the line services for patients. Over 30 of IDEAL's Physical Therapists will be attending.
Dr. John O'Halloran is a licensed Physical Therapist and Athletic Trainer with over 25 years of experience in the field of rehabilitation. The course will take place at IDEAL's Soma office at 805 N. Dobson Road, Suite 105, Mesa, 85201.
To learn more about IDEAL Physical Therapy and to find a location near you please visit http://www.idealphysicaltherapy.com.
ABOUT IDEAL PHYSICAL THERAPY
The primary goal of Ideal Physical Therapy is to improve patients' quality of life by providing rehabilitative and restorative services to promote pain relief. With 19 physical therapy clinics located throughout Phoenix and Tucson, Ideal Physical Therapy employs physical therapists specializing in all forms of physical rehab, including services such as hand therapy, sports physical therapy and orthopedic physical therapy services to promote recovery from hip, elbow, knee, neck and shoulder surgery and conditions. Ideal Physical Therapy's latest computerized patient care technologies maximize the overall patient experience and increase the quality time spent with a physical or hand therapist. Ideal Physical Therapy prides itself on "Providing Quality Care for Ideal Results".
###