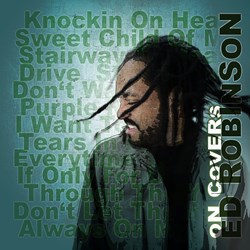 Luciana and her team at Push Broom Gang take covers to a whole new level. Ed's voice is strong and adds a unique take on each of the tracks on this wicked compilation. - Aaron Mahlfeldt
New York, NY (PRWEB) February 20, 2014
In his sixth album titled "On Covers," Ed Robinson shows his talent and creative abilities in covering some of the most  legendary hits from the past two decades. This musical endeavor has taken Ed Robinson on a nostalgic journey through time that brings the listener with him.
In this album, Ed Robinson has taken hits from the genres of Rock and Roll, R&B, Country as well as many others, and put his own Reggae vibe into all of the rhythms and lyrics.
As an added feature, this album included a remixed and remastered version of his 1992 award winning cover tune, 'Knockin on Heaven's Door.'
"On Covers," has been released on the Push Broom Gang Productions label and distributed by Zojak World Wide, this album brings together a superstar team of new and classic talent, along with Chris Fischer of Critical1 Studios whose mixing and mastering expertise created the incredible reggae we crave. Together with E2recordings, musicians Adam Tese`, Lou Lomangino, and David Nesdall collaborate with Ed Robinson to create an authentic blend of Rock and Roll, R & B, and Country with Reggae Music.
Critics are saying this is one of the best and cleanest productions they have heard in a long while.
"On Covers" can be purchased on iTunes @ https://itunes.apple.com/us/album/on-covers/id808252861.
For more information, please contact:
Luciana Maneri
Push Broom Gang Productions Inc.
email: Luccimusic1(at)gmail(dot)com
or
ZojakWorldwide
email: media(at)zojakworldwide(dot)com