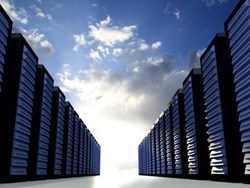 "For over 25 years, our company has prided itself on offering top of the line solutions to our customers at affordable prices and the Virtual Private Data center, with all of its benefits, encompasses that and more." -Sam V. Kumar, President of NewCloud
Denver, CO (PRWEB) February 19, 2014
NewCloud Networks, a Denver-based Cloud Computing and Communications company has launched its newest Infrastructure-as-a-Service (IaaS) solution, Virtual Private Data Centers, into the Mid-size to Small Enterprise business market. The solution offers its users the benefit of running a highly secure, highly available, virtual IT environment for a monthly subscription fee. Sam V. Kumar, President of NewCloud Networks says, "This will be our flagship product for the foreseeable future. For over 25 years, our company has prided itself on offering top of the line solutions to our customers at affordable prices and the Virtual Private Data center, with all of its benefits, encompasses that and more."
NewCloud launched its IaaS division in 2009, offering Virtual Servers, Virtual Desktops, Backup and Disaster Recovery and IT Managed Services through its direct and partner channels. "Our company offers solutions to improve businesses rather than products. One of our biggest value propositions is that we are a one stop shop for all business IT needs," says Kumar. "Creating a solution that gives our customers a complete, self-managed environment of its own has been a goal of ours for quite some time and now we are able to do that."
The Virtual Private Data Center (vPDC) solution is considered an all-encompassing IT solution for businesses. It moves the traditional on-premise data center environment (networking, compute and storage systems) into a secure, virtualized environment using vCloud Director by VMware, the leader in virtualization technology. Once the system is in place, the end user is able to customize and provision virtual servers in five minutes or less using an online portal.
"Our solution increases IT productivity by decreasing the time spent on ordering and provisioning traditional servers." says Kumar. "We also help our customers save money by providing a scalable service; they pay for what they need now and then increase their resources when the time comes, rather than overprovisioning and underutilizing physical equipment. And the expense is operational rather than capital which is better for the financial balance sheet." vPDC users also see cost savings in the form of reduced power and cooling expenses required to keep on-premise equipment running.
In order to show the value of the service to prospective customers, NewCloud has made it a standard practice to offer return-on-investment (ROI) calculators during the sales process. Kumar says, "In some cases the ROI calculator shows that a 100% Virtual environment makes the most sense, and in other cases it shows that a hybrid environment is a wiser solution. We take into consideration the customers' business and applications in order to be sure we offer them the solution that makes the most sense for their business."
NewCloud's services are hosted in their SOC 2 Type I certified, HIPAA compliant data center in the Denver Tech Center. The company's security certifications have been based on third party evaluations of their internal operations and security practices which include video surveillance, badged access, biometric scanning and pre-hire employee screening. This primary data center is also connected to the company's Phoenix Cloud Pod location via a 10 Gig MPLS network and the company plans to deploy more Cloud Pods around the country in the near future.
The vPDC offering was tested by NewCloud for over a year prior to launching into the small enterprise market. The company has since successfully deployed approximately 50 vCD solutions prior to opening the service to the general Mid-size to Small Enterprise business market. The first customer, a multimedia video streaming company in New York stated that "working with NewCloud was more like a partner experience than a vendor/client experience… we weren't considering virtualization at first but within the first few conversations with NewCloud, it started to make sense." This customer has remained with NewCloud and is currently renewing their contract and adding backup of their environment to NewCloud's Phoenix data center for geographic redundancy.
The Virtual Private Data Center solution from NewCloud is offered to businesses with 25 to 1,000 employees. Packages are custom designed and custom priced for each customer based on an evaluation of their IT environment and a needs assessment. For more information, contact NewCloud Networks at 855-255-5001.