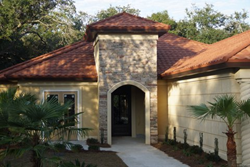 ...builders should 'line up' to learn this new technology... - Rick Bastin
Gulf Shores, AL (PRWEB) February 19, 2014
Defender Technologies has now completed a "FEATURED SHOW HOME" in Gulf Shores, which is built to withstand winds up to 200 mph.
Defender is pleased to announce that First Baldwin Insurance Company has dropped the annual premium cost of this home more than 50% compared to a similar wood-frame or brick home. Cory Luckie, First Baldwin Insurance Agent, has worked with Defender to provide affordable insurance rates for Defender home owners and offered, "Due to Defender's resilient home construction process, our carriers are eager to provide deep insurance discounts -- discounts providing a measurable premium savings."
Defender's affordable construction process is new to the U.S., but has been used throughout the world for the past 16 years. The patented, poured-in-place concrete panel system resists high winds, fire, water, termites, mold & mildew, withstands sinkholes, and earthquakes (up to 7.0 on the Richter Scale), and is bullet proof.
To further protect structures from storm damage, Defender has installed attachments for its new "Defender Storm Catcher Screens," engineered to protect window and door openings against flying debris and winds up to 250mph.
The Defender concrete panel wall system requires no forms to be built and removed, therefore, substantially decreasing both the building cost and time to construct. In fact, the price of construction is about the same as a traditional wood-frame structure due to the savings in labor costs.
Rick Bastin, a former commercial builder, stated that "home builders and commercial builders should 'line up' to learn about this easy-to-use technology, as it provides occupant safety and protection against natural disasters. It's even bullet proof--the military should be interested as well," Bastin said.
For information regarding Defender Technologies, or to arrange a viewing of the Featured Show Home in Gulf Shores, please visit Defender Technologies website: http://www.defendertechnologies.net.
About Defender Technologies:
Defender Technologies is the US distributor of a patented and proven construction system to withstand natural and man made disasters. Introduced recently to the US, over 60,000 homes and structures have been built worldwide in 14 countries over the past 16 years. The Defender process can affordably protect against hurricanes and tornadoes, wildfires, termites and carpenter ants, mold, mildew and water incursion, sinkholes, and earthquakes (up to 7.0 on the Richter scale) and even small arms fire (handguns and small bore rifles up to an M16). Savings from insurance and utility savings provide consumers financial advantages in addition to safety and peace of mind. The Company is looking for builders to adopt its process and provides free builder training and certification in Gulf Shores, Alabama.
DISCLOSURE and DISCLAIMER:
Companies mentioned above are NOT a United States Securities Dealer, Registered Representative for a Broker/Dealer, or U. S. Investment Adviser. The content in the release above is not an offer to sell a security or an offer to solicit the sale of a security. Any and all due-diligence regarding the Companies is strictly incumbent upon the persons interested in the Company. Nothing contained herein is to be considered solicitation, or inducement for any kind of participation in any financial program.