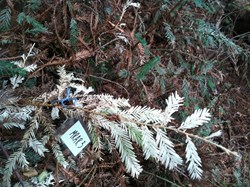 "Scientists don't have that answer yet, but maybe someday you will be that scientist to teach me!" -Sergio Typhoon
Santa Cruz, CA (PRWEB) February 19, 2014
As an Outdoor Science School, WOLF School has always been involved in teaching hands-on science in the field. WOLF is also involved in ongoing research projects that the students get to participate in. This is a great opportunity to teach students about science and also use what they find to contribute to scientific study. Student science is a great way to benefit the students as well as gain data for research.
Since 1999, WOLF School has been contributing data to a salamander study that monitors salamander populations in order to look at ecosystem health and track effects of global climate change. WOLF School students get to look under our designated salamander study boards, find and document what creatures live underneath, and learn about how these creatures live and interact in the ecosystem. They get to experience doing scientific research in the field, are able to get an up-close view of these amazing organisms, and add their data to this ongoing study to help assess the biodiversity of the area. Data from the WOLF School has been presented at the International Congress for Conservation Biology and is in collaboration with laboratories throughout the bay area.
WOLF School has also received grants from Save the Redwoods League since 2009 to allow us to offer scholarships to students and schools who would otherwise not be able to attend WOLF program. This funding gives more students the opportunity to explore and study the redwoods, which helps to inspire them to further enjoy and take care of our environment. It also inspired us to enhance our already existing redwood curriculum and to create an ongoing redwood study project for the students to participate in. Students get to take data on our designated redwood study trees by using tools to find the height and diameter of the tree, test the soil around the base of the tree, and identify other organisms living in or around the tree. The data collected is compiled to gain information on how the trees are growing and changing. So again the findings of each individual group are added to the greater research project.
Moving further into the scientific community, WOLF School has also recently become involved in another redwood research project, monitoring the growth patterns of albino redwoods. During Winter Nature Day Camp in 2013, a WOLF School student exploring a circle of redwoods discovered a rare albino redwood. This tree and another albino redwoods at the same site are now research subjects for a project led by a student of CSU. WOLF School's Program Coordinator, Sergio Typhoon, is currently collecting data and will be coauthoring a research paper on the findings. He is also working on a project that will allow WOLF School students to be involved in the data collection and monitoring as well. Currently WOLF School naturalists bring students to see and learn about these rare and amazing trees, and tell them about what's being done to research them.
WOLF School is proud to have its students contributing to research projects and allowing scientists and kids to learn more about nature. Not only is this a great way to collect data, but also gives students the opportunity to explore, learn about, and enjoy nature while gaining experience doing hands-on scientific research in the field. And some students might even be inspired to continue learning and discovering more about the environment, leading to scientific research of their own. Whenever posed with a question from a student about something scientists haven't discovered yet, I always reply, "Scientists don't have that answer yet, but maybe someday you will be that scientist to teach me!"
-Sergio Typhoon 2/18/2014
ABOUT WOLF SCHOOL
The Web of Life Field (WOLF) School is an environmental education organization providing outdoor education experiences for students and teachers since 1989 at our Northern California campuses.
ABOUT LITTLE BASIN
Little Basin - previously the private retreat for Hewlett Packard - is a new addition to Big Basin Redwoods State Park through a partnership with the Sempervirens Fund and Peninsula Open Space Trust.