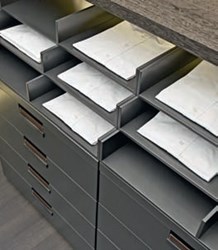 Houston, TX (PRWEB) February 18, 2014
Internum is proud to announce that one of their product brands, B&B Italia, has recently been awarded the Wallpaper Design Award 2014 for the "Best Wardrobe" for their Backstage wardrobe system.
This prestigious prize is given annually by Wallpaper, an international magazine covering the fields of architecture, design, fashion, lifestyle and travel. It is given to outstanding products, people and projects that have set trends in the world during the previous year.
Designed by Antonio Citterio, the Backstage wardrobe system rethinks the concepts of storage and space and introduces new and innovative solutions in their place. The system is designed to integrate the wardrobe with the bedroom, allowing the two to interact with each other rather than disappear into one another.
The doors of the wardrobe system are made from sucupira wood or lacquered with a shellac finish and feature handles with leather or bronzed-nickel inserts. Inside the wardrobe, there are leather shelves and trays as well as bronzed-nickel-finished drawers. Additional features include accessory trays, an adjustable mirror and belt and jewelry holders.
The Backstage wardrobe system does more than hold clothes; it completely redesigns the bedroom. To learn more about B&B Italia's Backstage wardrobe system, visit Internum's website at http://www.internum.com/.
About the company:
At Internum, customers will find internationally-recognized European luxury furniture brands such as Minotti, Cassina, B&B Italia, Baxter, Flexform and Poltrona Frau, among many others. The way these brands work and treat the leathers, fabrics, woods and any other materials they incorporate in their artistic designs are some of the features that make them the preferred choice in the international high-end furniture industry. Since 2010, Internum has become known for their high-quality furniture and excellent service. Internum's Houston showroom is located at 3303 Kirby Drive and open from 10 a.m. to 6 p.m. Monday through Saturday, as well as noon to 5 p.m. Sundays. For more information, contact Internum at (832) 242-9470.