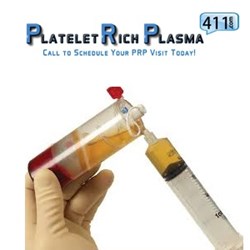 (PRWEB) February 18, 2014
Widely-acclaimed across the United States as one of the first-ever prolotherapy search-and-booking platforms, PRP411 has solidified its patient-centered brand as one of the most reputable names in locating a PRP-administering doctor. Originally, the PRP411 interface was designed in order to attend to an influx of pain patients seeking regenerative medicine practices. As one of the Internet's first portals for the country's prolotherapy patients, this company is seeking reputable doctors who administer this non-invasive healing treatment known as platelet-rich plasma therapy.
PRP411.com is comprised of a unique network that features a multitude of medical practitioners who are looking to help Delaware pain patients achieve renewed wellness and personal healing. With more and more Delaware patients seeking this "Hollywood" treatment of the stars, the company has now turned its attention to the Diamond State.
A regenerative remedy that has been praised by some of Hollywood's most beloved celebrities and athletes, platelet-rich plasma therapy is utilized by Delaware pain patients in hopes of providing healing from any sustained injury. Differentiating significantly from other forms of pain treatments, PRP greatly strays from anything resembling a surgical pain treatment. PRP is performed via non-invasive administration and will help accelerate a patient's healing response.
While the human body's process of healing is an absolute essential in maintaining homeostasis, platelet-rich plasma will help Delaware pain patients heal or reduce debilitating symptoms associated with a multitude of injuries. Delaware PRP patients will be happy to know that PRP411.com is a compassionate entity that consistently works around the clock to set platelet-rich plasma patients with a reputable prolotherapy doctor in Delaware.
Perhaps the biggest perk with choosing PRP as your regenerative therapy of choice is that patients are not obligated to spend any time in a hospital-based setting. Our company understands that being situated in an uncomfortable setting for an extended period of time is absolute agony. Thankfully, with platelet-rich plasma injections, patients are able to go home after a procedure and not have to deal with any hospital complications. Additionally, an administration of a platelet-rich plasma injection is able to take place right in any Delaware prolotherapy doctor's office as an out-patient process.
PRP411.com urges any and all Delaware doctors who practice prolotherapy and platelet-rich plasma to subscribe to this network and help satisfy a massive influx that is being experienced. With nowhere to go, these patients need more reputable locations to help receive healing.