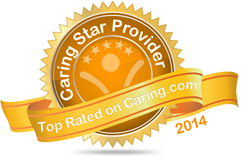 Lake Oswego, OR (PRWEB) February 18, 2014
Renaissance-Sherman and Spring Haven Retirement, two Holiday Retirement communities, were selected as a "Caring Star" of 2014 as part of an annual nationwide program honoring service excellence based on consumer ratings and reviews posted on http://www.Caring.com, the leading senior care website. In reviews from families, seniors, and others concerned about assisted living and Alzheimer's care, the two Holiday communities captured a five-star consumer rating (the highest possible score) while also meeting other qualifying criteria for the honor.
"It's quite the honor," said Jamison Gosselin, vice president of marketing, communications and resident enrichment for Holiday Retirement. "Our assisted living communities provide the highest level of quality care day-in and day-out—we're thrilled they're being recognized for their incredible service and commitment."
The Caring Stars 2014 award was determined from consumer ratings and reviews posted on Caring.com between December 1, 2012 and December 1, 2013. To qualify, the communities had to receive all of the following:

Three or more reviews during the time frame with one or more of those reviews receiving a five-star rating
An average overall rating (across all reviews on their listing) greater than four stars
No unresolved negative reviews
Only the top 1% of assisted living communities nationwide achieved this recognition.
"Word-of-mouth recommendations in online reviews are consistently cited among the top considerations in the search and selection process," said Andy Cohen, cofounder and CEO of Caring.com. "The Caring Stars award badge signals a history of service excellence, further helping those seeking the best assisted living or Alzheimer's care community for their loved ones."
Renaissance-Sherman is located at 3701 Loy Lake Road in Sherman, Texas. For more information, call 903-868-2200 or visit http://www.shermanrenaissance.com.
Spring Haven Retirement is located at 1225 Havendale Boulevard NW in Winter Haven, Florida. For more information, call 863-293-0072 or visit http://www.springhaven.net.
About Caring.com
Caring.com is the leading website for family caregivers seeking information and support as they care for aging parents, spouses, and other loved ones. Caring.com provides helpful caregiving content, online support groups, and the most comprehensive Senior Care Directory in the United States, with 50,000 consumer ratings and reviews and a toll-free senior living referral line (866-824-8174). Based in San Mateo, California, Caring.com is funded by DCM, Intel Capital, Shasta Ventures, and Split Rock Partners. Connect with Caring.com on Facebook, Twitter, Google+, Pinterest, LinkedIn, and/or YouTube.
About Holiday Retirement
Based in Lake Oswego, Ore., Holiday Retirement invented the concept of independent senior living in 1971 and is the largest provider in North America today with more than 300 retirement communities throughout the United States and Canada. Holiday Retirement is in the business of providing security, comfort, and value to independent seniors seeking a fulfilling lifestyle in a welcoming environment. For more information about Holiday Retirement, please call 971-245-8337 or visit http://www.holidaytouch.com.
###