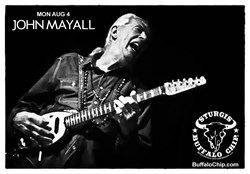 John Mayall practically wrote the book on blues.
Sturgis, SD (PRWEB) February 18, 2014
The Sturgis Buffalo Chip announces that blues legend, John Mayall, will take the stage at the Chip's 33rd annual Motorcycle and Music Festival on Monday, Aug. 4, 2014. The living music icon will bring his driving Chicago-style electric blues to the ever-expanding lineup of Sturgis concerts taking place during the nine-day festival. Mayall joins over 20 live bands to take to the Chip's main stage Aug. 1-9, 2014, including Mötley Crüe, Alice Cooper, Lynyrd Skynyrd and Florida Georgia Line. The Buffalo Chip will be announcing more bands throughout the year, with the next announcement scheduled for Feb. 25. Festival prices increase Feb. 24 at 5 p.m. MST.
Mayall is a blues virtuoso who has received endless acclaim for his 50-year career as a musician, songwriter and producer. He is most well known for forming the renowned group, The Bluesbreakers, in the early 1960s. The group served as a springboard to stardom for a long list of respected blues musicians including Eric Clapton, Peter Green and Mick Taylor. The three went on to respectively form Cream, Fleetwood Mac and the Rolling Stones after their time with Mayall.
"John Mayall practically wrote the book on blues, so being able to watch him perform is almost like an out-of-body experience," says Rod Woodruff, president of the Sturgis Buffalo Chip. "Keyboard, guitar, harmonica, drums, you name the instrument, and Mayall has mastered it. I can hardly wipe the smile off my face knowing that he'll be performing for our fans in just a few short months."
The Aug. 4 performance may be the one and only opportunity to experience the chemistry between Mayall, his instruments and his fans at the Buffalo Chip. Attendees can expect to witness a high-caliber performance that only an icon of his status could deliver. Fans can anticipate hearing classic works from Mayall's exhaustive catalog of releases as well as new material he's developed with his current lineup.
Passes for this nine-day festival are on sale now and all concerts are free with camping. For more information or to get your passes, visit http://www.BuffaloChip.com or call (605) 347-9000.
About The Sturgis Buffalo Chip
Since 1981, the Sturgis Buffalo Chip® has provided nine days of epic live music experiences and exciting activities for fans from around the globe. The family-owned and operated Sturgis Buffalo Chip is host to the Sturgis Rally's cornerstone event, known as the Largest Music Festival in Motorcycling™ and The Best Party Anywhere™. Concerts are free with camping. Passes grant access to music industry's hottest stars, the Bikini Beach Swim Paradise, 25 bars, mouth-watering food and beverage vendors and thrilling exhibits. The Sturgis Buffalo Chip offers clean, well maintained facilities, private showers, cabins, RVs, paved roads and more. Outrageous events such as unforgivably hot bikini contests and jaw-dropping daredevil stunts are a few of the many daily spectacles unique to the Chip. The famed creek-fed 580-acre camping resort is located three miles east of Sturgis, SD. Now in its 33rd year, this event is one of the few remaining independent music festivals in the world. The Buffalo Chip is a festival experience like no other. More details are available at http://www.BuffaloChip.com.