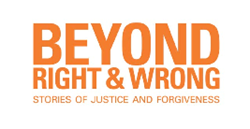 Los Angeles, California (PRWEB) February 18, 2014
A host of philanthropists, tastemakers and celebrity guests will join filmmaker Lekha Singh to celebrate the launch of the One Million Viewer Campaign at the Harmony Gold Preview House on Feb. 20 at 6:30 pm. The evening will also include a screening of Beyond Right & Wrong: Stories of Justice and Forgiveness and a Q&A with Singh.
The campaign, which features the award-winning documentary, will launch Thursday, Feb. 20, on FilmRaise, a new online platform that harnesses the assets and resources of top human rights organizations to increase the viewership of social impact films.
The viewership campaign will focus on garnering 1 million unique online viewers for Beyond Right & Wrong, which follows victims of three devastating conflicts — the Rwandan Genocide, the Israeli-Palestinian Conflict and the Troubles in Northern Ireland — as they struggle to forgive without sacrificing their need for justice. This transformative documentary allows viewers to delve deeply into the familiar battles for reconciliation and recovery, opening their eyes to the multifaceted expression of human resilience.
From a $500,000 prize pot made possible by generous donations from individuals and supporting organizations like Operation Kids Foundation and Share the Mic, partnering charities (Anasazi
Foundation, Free the Children, Malala Fund, Nelson Mandela Centre of Memory, PeacePlayers International, Search for Common Ground, Witness and Women for Women International) will collect $5,000 for every 10,000 viewers they secure by promoting and increasing viewership of Beyond Right & Wrong through their email databases and social media networks.
Co-directed by Roger Spottiswoode (Turner and Hooch, Tomorrow Never Dies) and Singh, Beyond Right & Wrong has won multiple awards (Best Avant-Garde Film in 2013, American Psychological Association; Best Documentary Film, Fingal Film Festival; Runner-up for Best Documentary, LA Jewish Film Festival; Social Impact Award, The Collective; 2014 Snowball Award, Cause Brands) and amassed worldwide attention since its initial release. UN Secretary-General Ban Ki-moon presented the film to the General Assembly before they adopted a far-reaching resolution for the peaceful mediation of conflict.
To register to watch the film, visit FilmRaise.com.
For more information, contact:
Gretta Whalen
Phone: 801-712-8004
Email: grettawhalen(at)hadleyimpact(dot)com
###