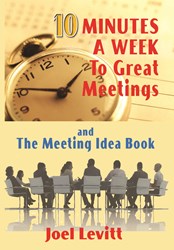 For me, there are few things better than seeing marked improvement in a company after they have implemented my techniques. It really makes me proud to witness that kind of progress. - Joel Levitt
(PRWEB) February 19, 2014
Maintenance management support guru Joel Levitt is proud to announce that he has recently updated the article database at SpringfieldResources.com. The knowledge database at Springfield Resources covers a wide range of topics, from maintenance philosophy, economics, planning and scheduling, metrics and management techniques, all the way to humor.
"I pride myself in keeping up with the times," said Levitt. "I've been in this business for 25 years, and in that time, a lot has changed. Managers are always encountering difficult new issues. I felt that in order to best serve them, it was necessary to update the knowledge base on my site."
Many of the articles at Sprinfield Resources are aimed at helping managers improve meeting effectiveness, as is Levitt's new book, "10 Minutes a Week to Great Meetings." The book contains 10 lessons, checklists, quick answer and other assorted details that cover all areas essential to having great, productive meetings.
"Between the updated articles and the new book, I think we are in a really good place right now," said Levitt. "These are great resources for any manager to take and distribute to their teams at will. Everything on my site can be freely quoted, as long as they attribute any information they use to me of course."
Joel Levitt and Springfield Resources are committed to providing top-tier management training and consulting to any and all who need it.
"This is my passion," said Levitt. "For me, there are few things better than seeing marked improvement in a company after they have implemented my techniques. It really makes me proud to witness that kind of progress."
About Joel Levitt
There are many fine trainers and consultants from around the world, so let's be blunt: why pick Joel Levitt? The main reason is results. Joel has produced excellent results, for a wide range of clients, for over 25 years.
He has trained people from virtually every one of the Fortune 500, and from most of the Fortune Global 500. Many have come back and requested consulting or customized maintenance management training for their in-house staff. Over 15,000 maintenance professionals worldwide have enjoyed the intensive nature of our maintenance training, given in over 500 public workshops in more than 20 countries. 98% of attendees rate the program very good to excellent!