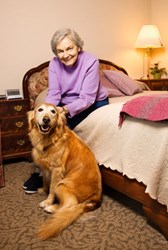 These innovations will help our seniors to safely live in their own homes for as long as possible.
Neenah, WI (PRWEB) February 19, 2014
More than half of all U.S. hospitals now use some form of telemedicine to diagnose and treat patients in remote locations, according to a Feb. 3 MedCity News article citing the American Telemedicine Association. This two-way, real-time interactive communication between patients and health care providers eases the burden on seniors by providing cost-effective access to life-saving care, says Lynn Wilson, Founder of The CareGiver Partnership, a national retailer of incontinence products and other home health care supplies.
"Telemedicine has the potential to bring fast, easy, cost-effective health care home to seniors, giving them access to expert health care using a laptop and Internet access," says Wilson. "From a technology that began as storing and forwarding digital records, to videoconferencing that eventually will become part of the standard of care, these innovations will help our seniors to safely live in their own homes for as long as possible."
Wilson says telemedicine technology has the potential to benefit the elderly in several important ways:

It saves time and transportation costs, reducing wait times and long drives to and from primary care providers and specialists.
It allows them to stay independent longer. Seniors remain living in their own homes, family members won't have to provide 24-hour monitoring or care, and the patient may experience improved mental status by staying independent.
It improves the outcome in time-sensitive cases such as monitoring stroke symptoms. The quicker a patient is diagnosed and sent to a hospital for treatment, the better the outcome.
"As a company whose mission is to help seniors age in place with normalcy and dignity, we look forward to seeing what telemedicine technology can do for our elderly population in the future," adds Wilson.
Read more about Medicaid and telemedicine.
Visit The CareGiver Partnership for home health care products with doorstep delivery, personalized customer service, and free articles on aging in place and health care.
The CareGiver Partnership is a national direct-to-consumer retailer of home healthcare products for incontinence, diabetes, nutrition support and more. In its seventh year of providing products and services that help caregivers and loved ones maintain personal dignity, the company also offers an online library of more than 1,500 family caregiver resources and personal service by experts in caregiving. Call 1-800-985-1353 or visit online at caregiverpartnership.com.