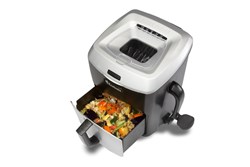 Old Farmer's Almanac product reviewers put the Green Cycler through its paces and said: "this little machine is the solution to composting nightmares."
Denver, CO (PRWEB) February 19, 2014
The home composting trend is heating up as Costco and several other leading retailers have inked deals to carry the Green Cycler kitchen composting appliance. As of February 2014, home-composters and gardeners in the U.S. and Canada can now purchase the Green Cycler at Costco.com. The Green Cycler is also available at Gardener's Supply.com, Hayneedle.com and at Peaceful Valley / Grow Organic.com. Together, these leading retailers reach more than 100 million customers.
A new class of kitchen appliance, the Green Cycler speeds up the compost process 1000% by shredding food scraps to the ideal size for composting. The Green Cycler modernizes the kitchen composting process by making it clean, efficient and as habitual as making coffee.
2013 Trial Winner - Old Farmer's Almanac
Green Cycler is also pleased to announce it was a 2013 Trial Winner from the respected Old Farmer's Almanac. Product reviewers put the Green Cycler through its paces and said that "this little machine was the solution to composting nightmares."
"We're delighted to see the range of leading retailers that have gotten excited about our home composting innovation. Interest in recycling and in home composting is really growing across the country," said Gail Loos, inventor of the Green Cycler. "With partners like Costco, we can begin to plant the seeds of change to get people thinking about recycling food waste, and putting it to good use in their yards and gardens."
Green Cycler is made in the U.S.A. and was recently awarded the "Pinnacle Award" for the best overall new product when it debuted at the National Hardware Show in May 2013.
According to the Environmental Protection Agency (EPA), Americans generated nearly 36 million tons of food waste in 2011, and 97% of that waste went straight to a landfill.
Loos believes composting can simply but significantly impact the worldwide landfill, water-quality and climate change crises while significantly improving home gardening success. Join the composting revolution by ordering a Green Cycler today.
The Green Cycler is made in the USA by Ecotonix, a company that designs innovative organic waste reduction products for gardeners and environmentally conscious consumers. This sleek, countertop compost bin and food scrap shredder dramatically speeds up the composting and decomposition process. Available in a variety of stylish colors, the Green Cycler retails for $119 to $139. For composting tips and more information, visit TheGreenCycler.com.