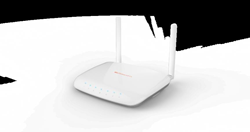 Seoul, Korea (PRWEB) February 24, 2014
WeTelecom is proud to introduce new LTE devices, CPE (Consumer Premises Equipment) and module. These will be exhibited at MWC 2014, from 24th Feb to 27th Feb in Barcelona, Spain. WeTelecom is a venture company from Korea which incorporated in 2009. We are expert in wireless telecommunication devices for 3G and 4G. This is a second consecutive time to participate in MWC with KOTRA (Korea Trade-Investment Promotion Agency), we have been selected by KOTRA for our advanced technology and marketing skills. We will be exhibiting at Korean Pavilion (Exhibition Hall 7, 7G61).
During MWC 2014, customers and partners will have a chance to integrate with the new devices from WeTelecom. One of them is CPE, WR-600, device that combines both lined and wireless technology including WiFi. WR-600 will be mainly for new market such as South America and existing European customers. This device supports most of LTE FDD bands including TDD bands (please consult WeTelecom for exact band configuration). In addition, it can receive/transmit UMTS and Quad-band (EGPRS, GPRS, Edge and GSM). WR-600 has WiFi connections for nearby devices such as laptop, printer and other devices that has WiFi connectivity. You can also connect Ethernet to the device. There is an optional for battery, in case of emergency or outdoor uses.
Another exciting device is a LTE module, WPD-600. As M2M market is expanding and there will be great demand anywhere from telemetics to repeaters business opportunities, WeTelecom is proudly presenting WPD-600. This supports most of LTE TDD bands including TDD bands (please consult WeTelecom for supporting band configuration). It can access UMTS and Quad-band. Size is about 3 (width) X 5.1 (length) cm. Since WPD-600 is equipped with standard mini-PCI express interface, it is easy for developing customers to design/develop new M2M devices.
Visit our website, http://www.wetelecom.net for more information.
For contact, please consult with Mr. Kevin Baek, VP of Sales, kevin(at)wetelecom(dot)net, (office) +82-31-391-5220, (fax) +82-31-391-4524.