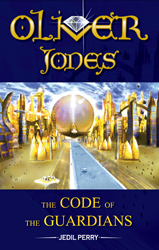 My signature is a blend of mind bending plot twists. I love creating distinctive worlds and characters. I like taking readers into sub-realities, creating paradox. I see every scene in my head as though it was being played out on a movie screen.
Brentwood, CA (PRWEB) March 01, 2014
On February 7, 2014, Lidej Publishing released "Oliver Jones the Code of the Guardians," the first volume in the brilliant and epic sci-fi adventure trilogy. Written by Jedil Perry, the book offers fantasy and sci-fi elements and appeals to both teen and adult readers.
The series begins when Oliver Jones finds an old journal he must decipher in order to learn a secret written to him 14 billion years ago. There is a rule he must follow in order to see the words written on the pages of the journal. Oliver's life changes forever. He began seeing beings who live among humans but are invisible to everyone else. The beings are aware that Oliver can see them, and his life is struck with tragedy. His twin brother, Jessie, has an accident and becomes comatose. Oliver experiments with witchcraft to try to bring his brother out of the coma. However, the spell does not go as planned, and he finds himself in a parallel world with no way out. Along with three young people, Oliver sets out on a journey to try and change the outcome of his life and the fate of his brother. On this journey, he encounters great perils and challenges. He discovers extraordinary beings and things in a different world and learns a devastating secret about his life, which is connected to the transcription in the journal.
"Oliver Jones the Code of the Guardians" is a gritty tale with a well-developed plot and is loaded with action, magic, mystery, mind bending developments, some comedy and sudden plot twists. The story is mainly set in the jungle of an alternate universe, and involves dream stages and stories told within stories. The novel has been compared to such works as "The Sarogossa Manuscript," Stephen King's "The Dark Tower 1: The Gunslinger," "Harry Potter" and "Inception." "Oliver Jones" is a story of courage, self-discovery, friendship, love, heroism, heartache and one boy's amazing journey after falling into a parallel world, then discovering the doorway into a realm that existed before the dawn of time.
Although this is Perry's first published novel, she has been writing for years. She wrote her first sci-fi/fantasy novel when she was just 10-years-old.
Oliver Jones the Code of Guardians is available in paperback as well as ebook on Amazon.com, http://www.amazon.com/Oliver-Jones-The-Code-Guardians/dp/0979851718, BarnesandNoble.com http://www.barnesandnoble.com/w/oliver-jones-the-code-of-the-guardians-jedil-perry/1118627141?ean=9780979851711 and retail bookstores worldwide.
In addition to being an author, Jedil Perry owns and runs J'ouvert Records and manages her daughter, pop artist Zhavea. She is currently writing the second book in the Oliver Jones series, "Oliver Jones: Clash of the Descendant," and the final book to the series, "Oliver Jones: the Final Deliverance" will follow. After the series, Perry plans to recreate the story from her youth, "Seven People On a Train" and more of her children stories. Additionally, she is planning on writing another sci-fi novel, "The Suicides of Melina Rose."
For media appearances, interviews and/or book signings, contact her at jedil(at)jouvertrecords(dot)com. Also, visit her on Facebook at https://www.facebook.com/pages/Jedil-Perrys-Oliver-Jones-The-Code-of-the-Guardians-Trilogy-Novel/377381165687955.
If you are a book reviewer or a member of the media interested in reviewing the book, you can request a free trade paperback copy of the book by writing to Oliverjones(at)yahoo(dot)com or call(310) 361-8591 ex 991.