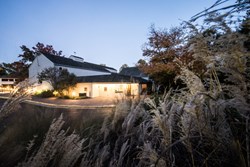 Vienna, VA (PRWEB) February 19, 2014
Paul Byrom
Wednesday, March 12, 2014 at 8 pm
$35
Paul Byrom is known affectionately as "The Swanky Tenor" by his fans due to his suave and romantic performance style. This Dublin native began singing professionally at the age of 12 and released his first album at 14. Since then, Byrom was a founding member of the acclaimed Irish singing group Celtic Thunder and was named Irish Tenor of the Year by the Irish Music Association in 2012. He also served as the ambassador for culture and music for The Gathering 2013, a year-long celebration in Ireland. He has had the honor of singing for international dignitaries such as former Irish President Mary McAleese, Emperor Akihito of Japan, and President Barack Obama. Today, Byrom released Thinking of Home, an album which revisits his roots through heartfelt renderings of legendary Irish songs.
Video: Paul Byrom – "She"
Solas
Thursday, March 13, 2014 at 8 pm
Friday, March 14, 2014 at 8 pm
$22-$25
The Celtic-folk ensemble Solas, whose name derives from a Gaelic word for "light," has been captivating audiences since the mid-1990s, when the group's original members began performing together in Irish bars in New York City. The band's current lineup is Seamus Egan (flute, tenor banjo, mandolin, tin whistle, low whistle, guitars, bodhran), Winifred Horan (violins, vocals), Mick McAuley (accordions, contertina, low whistle, vocals), Eamon McElholm (guitars, keyboards, vocals), and Niamh Varian-Barry (vocals). Solas's most recent album, Shamrock City (2013), tells the story of an Irish immigrant recently arrived in the mining town of Butte, Montana. It is hailed by FolkAlley.com as "a deeply thoughtful, imaginative collection of songs which grapple with the wealth of ideas and emotions inherent in the immigrant journey, as well as the tales which get passed down through history."
Video: Solas – "Lay Your Money Down" (ft. Rhiannon Giddens)
Southside Johnny & The Poor Fools
Saturday, March 15, 2014 at 7:30 pm
$30
Southside Johnny is widely considered the originator of the rock sub-genre, New Jersey Sound. He first made waves as the leader of The Ashbury Jukes and gained fame in the 1970s with hits such as "The Fever" and "Talk to Me." According to Southside Johnny, The Poor Fools collaboration is "a chance for me to try out different material and some Jukes standards in an acoustic-ish form…It will be a loose mix of songs, stories, and banter between the musicians and—hopefully—the audience." The group is comprised of Southside Johnny (harp, guitar, vocals), Jeff Kazee (piano, accordion), Neal Pawley (trombone, guitar), Tommy Byrnes (guitar, bass), Soozie Tyrell (fiddle, guitar), and John Conte (bass, guitar). NJ.com praised the band, saying, "Never underestimate Southside Johnny Lyon: With The Poor Fools, he has successfully recasted himself as backwoods balladeer, throaty and wise, compassionate and empathetic, and fun to hang with."
Video: Southside Johnny & The Poor Fools – "Old Kentucky Home"
an evening with
David Crosby
Sunday, March 16, 2014 at 8 pm (rescheduled from Tuesday, February 4)
Tuesday, March 25, 2014 8 pm (rescheduled from Thursday, February 6)
$80-$90
David Crosby rose to fame as a founder of folk-rock band the Byrds in 1963 and continued to make musical history with the Woodstock era-defining group Crosby, Stills & Nash (CSN). As a member of harmony-rich CSN, Crosby penned famous tracks "Guinevere" and "Wooden Ships" on their 1969 self-titled debut album. It is included on Rolling Stone's list of the 500 Greatest Albums of All Time. The trio still performs together and embarked on a European tour in 2013. Crosby has been inducted into the Rock and Roll Hall of fame twice, once with Crosby, Stills & Nash, and a second time with the Byrds. In late January 2014 he will release CROZ, his first solo studio album since 1993, which Crosby says is experimental and different than anything he has done before.
Video: David Crosby – Thousand Roads
Tickets can be purchased by calling 1.877.WOLFTRAP or online at wolftrap.org.
For more information, call The Barns at Wolf Trap at 703.938.2404 or our general information line at 703.255.1900.
High-resolution images of the artists listed are available on Wolf Trap's website: wolftrap.org/Media_and_Newsroom/Photos_for_Publication.aspx.
###