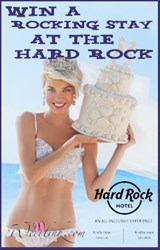 We're dedicated to saving you money on your wedding!
Toronto, ON (PRWEB) February 19, 2014
Do you have a funny, compelling or inspirational love story and feel as though you deserve to win a rockin' honeymoon? Tell us your story and you could be chosen as one of five finalists in the Weddlink honeymoon contest.
The finalists will be chosen on March 5th 2014, they then have 10 days to beg and plead with their friends, family and enemies to vote for them as Weddlink King & Queen. The couple with the most votes wins!
Weddlink.com is a Canadian-based website dedicated to helping couples save money on their wedding and in doing so has partnered with Hard Rock Resorts to find one deserving couple to win a well-earned getaway for two. Weddlink was created in late 2013 to help couples reduce their wedding budgets and increase the amount of fun they have planning them. Recently reaching over 1000 subscribing brides and growing in popularity, Weddlink is set to move into other Canadian cities soon and will be launching in Australia in late 2014.
The winning couple will have one year to select and book their honeymoon destination from one of the 4 all-inclusive Hard Rock Resorts (Cancun, Punta Cana, Riviera Maya or Vallarta)
Signing up is easy, simply go to http://www.weddlink.com/contest and tell us your heartfelt love story.