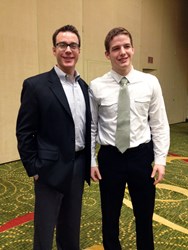 We are so proud to work with the NBRPA and provide its members with the finest hearing healthcare services available. -Clifford Carey, director of communications for EarQ
Syracuse, NY (PRWEB) February 19, 2014
For the second year, EarQ worked with members of the National Basketball Retired Players Association (NBRPA) to advocate the importance of maintaining one's hearing health throughout activities leading up to the 2014 NBA All-Star Game on February 16.
Local EarQ providers performed free video ear inspections and hearing screenings for the players and discussed hearing health, as well as today's advanced hearing loss solutions with attendees. EarQ is a member discount program provider for the NBRPA.
During a private event on February 15, the NBRPA joined the EarQ team and representatives of its non-profit organization, the HearStrong Foundation, to give the gift of hearing to three local women, Charlotte Swain, Louise Herbert, and Yvonne E. Johnson, alongside the New Orleans Council on Aging. As a sponsor of the HearStrong Foundation, the NBRPA also assisted the group in honoring 16-year-old Matt Adams as a HearStrong Champion.
Diagnosed with hearing loss as an infant, Matt refused to let any challenges keep him from becoming a successful student-athlete. In addition to earning a place on the National Honor Society, the Lafitte, LA native is a championship wrestler and football player. He was named a HearStrong Champion by the foundation because of his efforts to show his community a positive example of overcoming hearing loss and inspiring them to seek solutions for their own hearing challenges.
"We are so proud to work with the NBRPA and provide its members with the finest hearing healthcare services available," said Clifford Carey, communications director of EarQ. "They understand the importance of maintaining strong communication and their support of the HearStrong Foundation has brought our awareness message to a national audience."
XXXX
About EarQ:
EarQ strives to revolutionize the hearing healthcare industry through innovative business and marketing practices, national public awareness efforts and advocating for excellence in private patient care. Through its nationwide hearing healthcare providers, EarQ will shatter the stereotypes surrounding hearing loss and empower the millions of Americans who experience it to take control of their hearing health.
http://www.earq.com
About the HearStrong Foundation:
The HearStrong Foundation is a non-profit organization that seeks to challenge the way hearing loss and its solutions, such as hearing devices, are viewed by honoring the accomplishments of those who have overcome hearing loss and inspire others to do the same. Supported by the dedication of EarQ providers, the foundation is a world-wide advocate for hearing loss awareness, education and support. For more information about the foundation, or to nominate a HearStrong Champion, please visit http://www.hearstrong.org.
About the National Basketball Retired Players Association
The National Basketball Retired Players Association (NBRPA) is comprised of former professional basketball players from the NBA, ABA and Harlem Globetrotters. It is a 501(c) 3 organization with a mission to develop, implement and advocate a wide array of programs to benefit its members, supporters and the community. The NBRPA was founded in 1992 by basketball legends Dave DeBusschere, Dave Bing, Archie Clark, Dave Cowens and Oscar Robertson. The NBRPA works in direct partnerships with the NBA and the National Basketball Players Association. Arnie D. Fielkow is the CEO, and the NBRPA Board of Directors includes President & Chairman of the Board Robert A. (Bob) Elliott, Vice President Otis Birdsong, Treasurer Marvin Roberts, Secretary Steve Hayes, Past President Dr. George W. Tinsley Sr., Thurl Bailey, Harvey Catchings, James Donaldson, Johnny Newman, LaRue Martin and Danny Schayes.
http://www.LegendsofBasketball.com