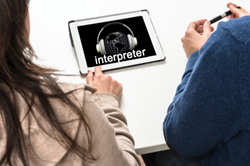 Now everyone can communicate in any language, whether they can hear or not, and whether they can see or not.
Atlanta, Georgia USA (PRWEB) February 19, 2014
Translate Your World is proud to announce the release of TYWI-Instant Captions and Subtitles, designed specifically for institutions and public-facing offices to greatly improve communication with the hearing-impaired, blind, and international visitors, while lowering prices of such services by up to 95 percent.
"The goal of Translate Your World is to remove the barriers to entry and make inclusion affordable for all. We believe that we have met and exceeded that goal. TYWI-Instant Captions and Subtitles makes cross-language communication easy, affordable, and accessible to everyone. The TYWI Advanced version has the professional features required for university lectures, speeches, medical and technical communications. The TYWI Basic version was designed in a way that people can use with no training or experience. Using TYWI everyone can communicate somehow whatever their native tongue, whether they can hear or not, and whether they can see or not," says president of Translate Your World Sue Reager.
TYWI-Instant Captions and Subtitles converts speaking voices into automated captions for the hearing-impaired at the same time that it creates instant subtitles in 78 languages on any device. TYWI (pronounced "tie-wee") also has communication support for the blind and speakers of other languages, because TYWI also speaks whatever is typed or texted in 35 languages using technology similar to Apple's Siri.
Through Translate Your World, staff members at any institution can communicate with under-served populations and internationals simply by touching a button on a website, and then talking or typing. The recipients may respond on the same device or from their own devices. Using the new software, universities offer instant captioning of any lecture, government offices better serve the hearing-impaired, and any tourist attraction answers international guest questions anywhere anytime.
"Inclusion" is more than a buzzword, inclusion means offering the means for groups of people who communicate in a different manner to participate as a solid part of a mainstream community, if they so choose. TYWI-Instant Captions and Subtitles software comes with new creative tools for inclusion, such as:

Split-screen mobile and laptop applications for 2-way, face-to-face communication
Chat-back for audiences to ask questions of a speaker in the room or online
Real-time texting tools to increase communication between the hearing and the hearing-impaired
Across–language texting that functions on all devices
Conversion of text into spoken words in 35 languages
Software for "on demand" interpreters (foreign language and ASL)
When asked about TYWI's cost impact Sue Reager explains, "Institutions have been trying hard to provide services for everyone, but until Translate Your World, the cost has been difficult or impossible to afford. For example, a university pays around $70,000 per student per year for professional ASL interpreters for only 3 or 4 classes. And lecture translation into another language can easily cost $20,000 per course for international students. With TYWI-Instant Captioning and Subtitles, the $70,000 for ASL drops to $5,000 per year for instant captions and covers many more students and increased class load, plus adds the 'Inclusion Software' to the package. Finally, with just a bit more budget, university lectures can be offered instantly in many other languages."
For more information and to see a demonstration, go to TranslateYourWorld.com.
About Translate your World
Translate your World International ("TYWI") develops numerous online web software that function in dozens of languages with voice and text. The Translate Your World suite includes applications for international web events, global mobile applications, media subtitling, and across-language conversation. For information, visit http://www.TranslateYourWorld.com or email to contact(at)translateyourworld(dot)com.