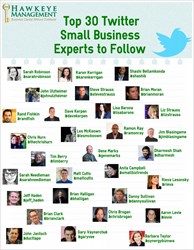 Blackwood, NJ (PRWEB) February 20, 2014
So, without further ado, congrats to the 2014 Top 30 Twitter Small Business Experts - the #Tweet30. The experts are listed alphabetically by twitter handle - it is almost impossible to rank the experts, as these small business leaders are all great!
@bhalligan Brian Halligan- Author of Inbound Marketing, CEO of HubSpot
@brianmoran Brian Moran- Formerly at Inc Magazine, Entrepreneur Magazine, and Success Magazine, and Wall St. Journal
@DaveKerpen Dave Kerpen - Chairman of Inc 500 company Likeable Media
@Garyvee Gary Vaynerchuk- Wall Street Journal and NY Times Best-Selling author
@johnulzheimer John Ulzheimer- Credit Educator & Credit Author
@lizstrauss Liz Strauss- Founder of SOBCon and social business strategist
@Rieva Rieva Lesonsky- CEO GrowBiz Media. Small business journalist, advocate, and best-selling author
@SynergyBizNWA Barbara Taylor- Blogger, NY Times contributor, and Business broker
@randfish Rand Fishkin- CEO & founder of Moz. The SEO Guru
@Timberry Tim Berry- Founder of Palo Alto Software
To follow and view the complete list of small business experts click here.
The INC500 company Hawkeye Management connects entrepreneurs and small business owners with up to $50,000-$150,000 or more in freely spendable business credit lines. Hawkeye Management understands the mechanics and realities of small business credit better than anyone. Hawkeye Management knows what works, what doesn't work, and how small businesses can get the credit it needs as quickly as possible.