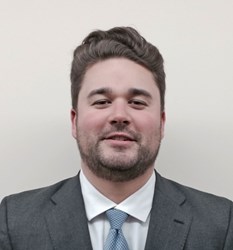 We are confident that Harry will help Catapult reach its long-term business development goals. His knowledge of the markets and established relationships will be an asset.- Shawn Bethea Vice President of Business Development
Bethesda, Maryland (PRWEB) February 19, 2014
Catapult Technology, Ltd., a leading federal government contractor that provides a wide array of information technology and management consulting services, announces that Harry T. Lackey III has joined the company as Director, Business Development.
In this position, Lackey applies 10 years of sales and business development experience as he pursues defense, civilian, and commercial contracts. He is positioned to play a critical role in the continued success of Catapult's current and future contracts.
"We are confident that Harry will help Catapult reach its long-term business development goals," said Shawn Bethea Vice President of Business Development. "His knowledge of the markets, as well as established relationships, will be a tremendous asset in our pursuit of new business."
Dave Lyons, Executive Vice President, Service Delivery, added, "Harry's decade of experience is what Catapult needs to build its client base in the short term, and we're glad he's on the Catapult team."
Prior to joining Catapult, Lackey was Director of GWAC and IDIQ Contracts at Reston, VA-based Access Systems, Inc. He generated sales through such contract vehicles as, Department of Homeland Security EAGLE/1, and the General Service Administration's Alliant SB contract and Department of State.
He has also held business development roles with Professional Alternative, Comsys, and Xerox Corporation. His past accounts include Citibank, Verizon, SAP, First Data Corp, Lockheed Martin and ManTech.
Lackey earned his Bachelor of Science degree in business technology from Stevenson University in Maryland and holds a Lean Six Sigma Yellow Belt.
About Catapult Technology
Catapult Technology, Ltd. is a mid-tier consulting firm that provides a wide range of information technology and strategic consulting services to a breadth of federal civilian, defense, and intelligence agencies. Catapult was founded in 1996 and is headquartered in Bethesda, Maryland. It is a DC Capital Partners portfolio company. Learn more at http://www.catapulttechnology.com. Follow us on Twitter @Catapult_Tech.
# # #
Photo Attached: Harry Lackey, Director, Business Development at Catapult Technology, Ltd.