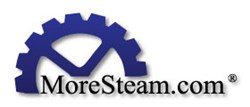 Operational excellence cannot be achieved without process design excellence any more than product quality can be achieved through inspection."
Columbus, OH (PRWEB) February 20, 2014
On Monday, February 24, MoreSteam.com's President, Bill Hathaway, will speak to an audience of Lean Six Sigma practitioners at the ASQ Lean and Six Sigma Conference on the topic of new process design. Although Lean Six Sigma has been around for more than 20 years, and Total Quality Management (TQM) has been around even longer, many processes remain error-prone. Enterprises utilizing these methods often spend their process improvement time and energy fixing existing process problems. That is necessary, but "find-and-fix" efforts fail to address the real root cause—poor process design. In his presentation "New Process Design: Simple Tools and Methods," Mr. Hathaway will address the on-going problems of process design and will offer a set of solutions to them.
"In spite of the ever-growing army of Green Belt and Black Belts who are busy digesting process improvement (DMAIC) projects, the rate of new process problem creation appears to exceed the rate of process problem resolution. The rework factory is running flat out on three shifts and we aren't catching up!" says Hathaway, "The only way we'll ever make real progress on process quality is to upgrade our design practices so processes behave properly right from the start."
By recognizing process design as a critical skill (rather than leaving it to chance), the solution is to "design the process used to design processes." By utilizing simple tools and common sense methods—the recipe has three ingredients: 1) design thinking, 2) a design road map, and 3) simple analytical tools. Those attending Mr. Hathway's presentation can expect to leave with the following objectives being met:

Develop clear thinking about the benefits of better process design
Articulate the primary components of a successful process design initiative
Develop familiarity with the simple tools and methods necessary to design new processes at a high level of capability
Concludes Hathaway: "Operational excellence cannot be achieved without process design excellence any more than product quality can be achieved through inspection." Mr. Hathaway's presentation will be at the Tapatio Cliffs Resort at 3:00 p.m.
About MoreSteam.com
MoreSteam.com is the leading global provider of online Lean Six Sigma training and Blended Learning technology, serving over 2,000 corporate clients and over 50% of the Fortune 500 with a full suite of Lean Six Sigma e-Learning courses, data analysis software, online project tracking software, and online testing, and process simulations and games. MoreSteam.com was launched in the year 2000 in response to the high cost of traditional Six Sigma training and tools, and has now trained over 340,000 Lean Six Sigma professionals. MoreSteam's mission is to enable people to advance the performance of their organizations by delivering powerful tools for process improvement to the widest possible audience at the lowest price available.
Bill Hathaway is president and founder of MoreSteam.com. Prior to creating MoreSteam, Bill worked as a commercial lender for several years, then spent 13 years in manufacturing, quality, and operations management. Bill spent 10 years at Ford Motor Co., then held executive-level operations positions with Raytheon at Amana Home Appliances, and with Mansfield Plumbing Products. He earned an undergraduate finance degree from the University of Notre Dame, and a graduate degree in business finance and operations from Northwestern University's Kellogg Graduate School of Management.