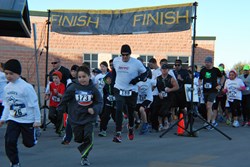 The ultimate goal of the Plum Creek Challenge is to build an active community. This is done in small, consistent steps, and by creating incentives for committed participation
Kyle, Texas (PRWEB) February 20, 2014
On March 1, Plum Creek – the mixed-use, master-planned community located 20 minutes south of Austin in Kyle – is launching the Plum Creek Challenge Race Series, a year-long fitness challenge for Plum Creek and Central Texas runners. The family-friendly race series expands upon existing races and the fitness culture of the neighborhood, with plans for expansion in future years. The Negley 5K is the first of four races taking place in the Plum Creek neighborhood throughout the year.
The idea for the Plum Creek Race Challenge germinated from the popularity of existing races in the neighborhood, and serves as a way to keep people motivated to stay active throughout the year. Plum Creek currently hosts a number of races in the neighborhood – including the Negley 5K, the Front Porch Days 10K / 5K and the Hootenanny on the Hill 10K / 5K – which draw interest from within Plum Creek and beyond, from the Central Texas running community. Currently, participation fluctuates from race to race, and the two Plum Creek Race Coordinators, Jennifer Crosby and Brandee Otto, wanted to find a way to encourage people to stay active and participate in the races, year-round. Thus, the Plum Creek Race Challenge was created – adding a 4-mile 4th of July race to the neighborhood's repertoire, and creating an incentive for people to participate in all of the races, all year.
"My ultimate goal for this series is to build an active community, to get people off their couches and into this beautiful neighborhood; and that is done in small, consistent steps," Plum Creek Race Coordinator Jennifer Crosby said. "We already have some great races here in Plum Creek that draw elite runners and families from outside of the neighborhood because they enjoy our closed courses and the difficulty of the courses themselves. But if you don't have a natural progression for people to sign up for future races, then that momentum is lost. That's why we created the Plum Creek Challenge, to keep people coming to the starting lines. It's not about honing elite athletes – it's about getting people out and about, and building a more active, healthier community."
Depending on the success and participation in this years' Plum Creek Challenge, Crosby and Otto hope to add even more races to the neighborhood's repertoire, so that those who wish to participate in the whole challenge will be able to run an entire marathon or a half marathon over the course of the year. This would eventually manifest in approximately one race every two months, and could include such exciting races as the Color Run, scavenger hunt races, and more.
The Plum Creek Challenge is divided into four divisions: the long track and the short track for adults, and the same for kids. To encourage committed participation in all races, finisher medals and exclusive long-sleeved t-shirts are awarded for each individual who completes all four races. Additionally, overall male and female Series Champion designations will be based on the fastest times for the Long Track and Short Track adult divisions. Over 30 individuals have signed up for the Plum Creek Challenge to-date, and pricing per race is significantly decreased for participation in the challenge.
The Plum Creek neighborhood itself is designed to inspire people to get out and move, making it an ideal place for such an initiative. Plum Creek features a 30-acre lake in the heart of the community that is surrounded by miles of hike and bike trails, pocket parks and other green spaces for residents and their children to enjoy. Additionally, the design of the community is complemented by a dedicated and involved resident base that is interested in and connected to the goings on in the neighborhood. The original 5K /10K courses were tracked and laid out by Bobby Seiburt of the Hill Country Tri Club, with the 3K, 1K and 4 mile courses tracked by Jennifer Crosby – one of the Plum Creek Challenge Coordinators and an avid runner, who is passionate about fostering fitness in Plum Creek – both through official races throughout the year, and through a weekly neighborhood-wide Fitness Club that takes place at Negley Elementary School every Wednesday night.
About the Races:
March 1 • 4th Annual Negley 5K • 5K / 3K / 1K • Originally intended for elementary school students, but parents and others in the community have begun participating in the annual race
May 18 • 9th Annual Front Porch Days • 5K /10K / 3K/ 1K • Part of Plum Creek's annual Front Porch Days, which celebrates the coming of summer and the community spirit of the neighborhood
July 4 • 1st Annual Popsicle Run • 4mi / 3K / 1K • A new race in conjunction with Plum Creek's 4th of July Parade, Picnic and Fireworks Show
October 11 • Hootenanny on the Hill • 10K / 5K / 3K / 1K Fun Run • Part of Plum Creek's annual Hootenanny on the Hill, celebrating Halloween and fall
Divisions and Pricing:
Registration for any track will automatically register participants for all 4 events:
Long track (5K, 10K, 4 mile, 10K): $70
Short track (5K, 5K, 4 mile, 5K): $50
Kids Long (3Ks) and Short (1Ks): $30
About Plum Creek
Plum Creek is an award-winning 2,200-acre mixed-use, master-planned community located twenty minutes south of downtown Austin along the I-35 corridor. Incorporating the principles of New Urbanism, Plum Creek is designed for the people who live, work and play in the community. Commercial and residential amenities include shared parks, walking and biking trails, pedestrian underpasses and a golf course.
Plum Creek is in its second phase of development, which includes mixed-use, retail, residential and commercial projects. In 2010, Austin Community College selected a Plum Creek site for a 96-acre Hays County campus, which opened this January for the spring 2014 semester. Completed commercial real estate in Plum Creek includes a Stepping Stone School Child Development Center, a TrustTexas Bank branch, a 264-unit multifamily project by Vantage Communities, and the Fellowship Church at Plum Creek. A range of senior living facilities have also been built in Plum Creek recently, including Legend Oaks Kyle, a nursing home and rehabilitation center; The Overlook at Plum Creek, a 55+ independent living center; and Orchard Park of Kyle, an assisted living and memory care facility.
Existing development covers roughly 550 acres and remaining sites represent more than 1,000 acres of commercial, residential and mixed-use land. Several of these commercial sections are adjacent to a proposed Austin-San Antonio Lone Star Rail District (LSTAR) commuter stop in Plum Creek.
Plum Creek was established in 1998. Austin Business Journal named Plum Creek the "Master-planned Community of the Year" in 2005 and Envision Central Texas named Plum Creek the "New Development of the Year" in 2006. More information about Plum Creek is available at http://www.plumcreektx.com.