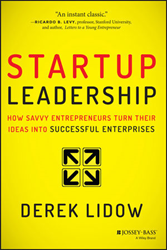 San Francisco, CA (PRWEB) March 11, 2014
Why do most startups fail and how can that be avoided?
While startup culture is often glamorized in today's digital age, there is a stark reality and risk in creating a new business—it requires much more than an innovative idea and a ping pong table in the break room. Many first time founders struggle to lead their teams and define their culture. Most wind up falling short of the goal they initially and optimistically set out to achieve.
In Derek Lidow's Startup Leadership: How Savvy Entrepreneurs Turn Their Ideas into Successful Enterprises (Jossey-Bass, a Wiley Imprint, 978-1-118-69705-4, March 2014, $27.95), we learn how entrepreneurial leadership, not ideas, leads to the creation of successful companies. Lidow, who founded and built a $100 million company, provides the fundamental capabilities that both enhance an entrepreneur's chances of success and avoid fatal common mistakes.
Based on both his own experience, research and hundreds of real world case studies, Lidow describes and the five easy to master skills that are often overlooked and enable an entrepreneurial leader to master the tricky balance between the selfishness required to be a successful entrepreneur and the selflessness needed to lead teams of people through the daunting challenges required to grow an enterprise.

Distills Lidow's insights as a successful entrepreneur and coach to successful entrepreneurs into best practices for growing with the company you created
Prepares to avoid the unseen traps that trip up many entrepreneurs
Developed out of extensive research and real-world experience
Used in Lidow's popular and well-respected course at Princeton University
This book fills a major void. It answers the question why, in spite of the intense focus on entrepreneurship, so many good ideas and startups are still unable to succeed and yield their founders, investors, and their societies a decent return. It provides compelling insights and a roadmap for any entrepreneur who is intent on being successful.
Startup Leadership is a must-read resource for entrepreneurs, innovators and their startup employees who want to succeed where so many have failed.
About the Author:
David Lidow teaches Entrepreneurial Leadership at Princeton He is also the founder and former president & CEO of iSuppli Corporation, which was recently acquired by IHS for more than $100 million. Prior to founding iSuppli, Derek was CEO of International Rectifier, which Derek led to be a global leader power semiconductor. Derek earned a Bachelor of Science degree Summa Cum Laude in Electrical Engineering from Princeton University and a Ph.D. in Applied Physics from Stanford University as a Hertz Foundation Fellow. http://www.DerekLidow.com