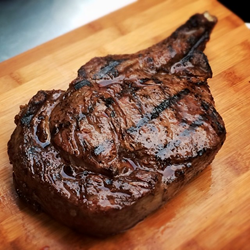 GrillGrates have become synonymous with championship steaks.
(PRWEB) February 20, 2014
GrillGrate LLC is proud to announce that the company is sponsoring a sanctioned steak cookoff and a celebrity grill-off at the National Barbecue Association annual meeting in SanMarcos, Texas March 5-8.
Steak competition is a new component to the National Barbecue Association whose membership is primarily professionals and competition teams from the low and slow barbecue scene. Four World Champion Steak winners have been invited to demonstrate their skills and compete in a celebrity grill-off against barbecue celebrities including four World Champion Barbecue winners from the prestigious Memphis in May contest.
"We've dubbed it the low and slow pitmasters versus the hot and fast grillers" explains Brad Barrett, President of GrillGrate LLC. "On Friday night March 7th, these world champions will share a few tips about grilling steak and then step off the stage and grill their best steaks."
On Saturday, March 8th all teams will participate in the inaugural Central Texas Steak Cookoff.
The National Barbecue Association annual meeting is open to the public from 11:00 a.m. to 3:00 p.m on March 8th. Demonstrations, sampling and people's choice voting will take place along with 30+ teams competing for the $2000 prize for best steak in the Central Texas Steak Cookoff. The contest is sanctioned by the SCA, The Steak Cookoff Association. More than $5000 in prize money will be awarded, including an appetizer segment. The contest takes place at the Embassy Suites San Marcos - Hotel, Spa & Conference Center. Live music, a BBQ trade show and food vending will also take place.
GrillGrates are a patented raised rail design that has a bottom with holes in it to drain fats and grease and allow smoky flavor to waft through to the food. Interlocking panels either lie on top of the existing surface or replace it altogether. The bottom blocks flare-ups while the valleys keep juices sizzling and smoking just below the food. To learn more about GrillGrates, please visit http://www.grillgrate.com.
About The National Barbecue Association
The NBBQA is dedicated to supporting the barbecue industry and the people who love it. The NBBQA connects all facets of the industry fostering new business opportunities and education for it's members. Membership is made up of industry segments including restaurateurs, caterers, pitmasters, competitors, backyard enthusiasts, writers, vendors and suppliers.
About GrillGrate
GrillGrate LLC is based in Cartersville, GA. GrillGrates are manufactured in various lengths and shapes for all popular grills. GrillGrates improve the cooking performance of any grill, including gas, charcoal grills, kamado and pellet grills. GrillGrates are proudly made in the USA. The GrateTool is made in China.