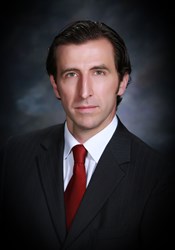 I hope to always be a positive impact in the lives of others and help develop the talents and attributes of my fellow team members. - Stefan Bourgeois, Civil & Structural Engineering Specialist
(PRWEB) February 19, 2014
Joining Fenstermaker's Lafayette, Louisiana, team in March 2010 as an Engineer Intern (E.I.), Stefan Bourgeois will celebrate his upcoming four-year anniversary with the company as a licensed Professional Engineer (P.E.). A notable talent and recipient of the 2012 Lafayette Engineering MVP Award, Mr. Bourgeois was recently promoted to Project Engineer upon obtaining his official registration as a P.E. in the State of Louisiana. Graduating from the University of Louisiana at Lafayette (UL) in May 2009, he received his Bachelors of Science in Civil Engineering.
Mr. Bourgeois' primary tasks as an E.I. at Fenstermaker helped him gain valuable experience in various engineering functions. To build his expertise, he assisted Project Engineers develop projects from the planning phase and a preliminary design to the final design phase and throughout the construction administration process. Now, as a Project Engineer himself, his role has evolved into independently managing different projects and interacting daily with clients to discuss deliverables.
As Mr. Bourgeois continues to broaden his project expertise and professional relationships, he aims to improve both his engineering and management aptitude to provide results that exceed client expectations. Considering his long-term goals, he remains focused on growing within his profession and strives to provide solid leadership and contributions within his team and industry. He states, "I hope to always be a positive impact in the lives of others and help develop the talents and attributes of my fellow team members."
As a Project Engineer in the Lafayette office, Mr. Bourgeois is presently working on the design of a new wastewater treatment plant capable of handling 2 million gallons per day of wastewater. Additionally, he is also designing a major wastewater lift station and the concrete lining of a drainage canal. In general, his main responsibilities have expanded to managing project objectives and resources for diverse civil and structural engineering projects at every stage. Mr. Bourgeois looks forward to strengthening his team and leading engineering design efforts with the goal of delivering advanced solutions to the transportation market.
*Fenstermaker is a multi-disciplinary firm specializing in Survey & Mapping, Engineering, Environmental Consulting, and Advanced Technologies. We have over 300 team members providing professional services through multiple office and field locations across the U.S. Our company mission is to be a vital partner in the success of our clients.