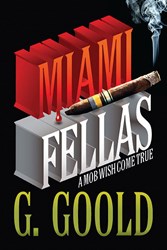 (PRWEB) February 19, 2014
Sonny comes to head one of the biggest numbers racket in America, and takes over as godfather of the Cuban Mafia. His story begins in New York in 1979, and continues in Miami over the next 15 years.
Meet the mafia enforcers, the mob bosses, and the head of the Colombian cartel. Members of the mafia come in all shapes and sizes, and they also come from many countries. The mob is a regular United Nations of crime!
MIAMI FELLAS: A MOB WISH COME TRUE (ISBN: 978-1-60976-687-0) is now available for $11.95 and can be ordered through the publisher's website:
http://sbpra.com/GGoold or at www(dot)amazon(dot)com or www(dot)barnesandnoble(dot)com.
WHOLESALERS: This book is distributed by Ingram Books and other wholesale distributors. Contact your representative with the ISBN for purchase. Wholesale purchase for retailers, universities, libraries, and other organizations is also available through the publisher; please email bookorder(at)aeg-online-store(dot)com
About the Author: G. Goold grew up in New York, and now lives in Dallas. He was inspired to write Miami Fellas by learning about the mafia connections that come from many different countries. His next book SPYRIMENTX is a spy thriller.
Strategic Book Publishing and Rights Co, LLC