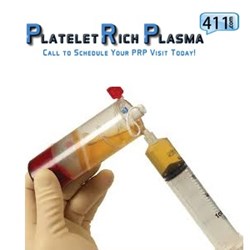 (PRWEB) February 19, 2014
A patient-centered brand that has the primary intention of helping out regenerative medicine constituents, PRP411.com has now become recognized across the country as one of the first of its kind in prolotherapy search-and-booking platforms. With a user-friendly interface that was designed to attract reputable prolotherapy physicians from across the nation, the company is now faced with a massive influx of Florida pain patients who are seeking an alternative treatment that strays from surgical procedures. In order to better satisfy these Florida residents who are suffering from a complication of a debilitating condition, PRP411 is actively seeking Florida prolotherapy doctors that are licensed to administer platelet-rich plasma therapy.
As a prolotherapy booking platform that attends to patients across the country, this company was founded upon humble beginnings that have led to its absolute surge. Now comprised of a network that is full of high-standing PRP doctors, PRP411 features a plethora of medical practitioners who practice and support this non-traditional method of healing. As more and more Florida pain patients are beginning to find out the benefits of this "Hollywood" treatment, all eyes have been turned to the Sunshine State in order to help individuals achieve wellness.
Platelet-rich plasma injections (PRP) are currently utilized by world-class athletes and Los Angeles socialites that demand the finest care. Accommodating all walks of life, this unique form of pain management can help stimulate and accelerate a patient's body response to an injury. This means that the necessary healing time in order to recover from a debilitating injury will be reduced significantly, leaving patients with a wellness that was once possessed years and years ago. Additionally, PRP greatly differs from any type of surgical and traditional method of medicine, as this procedure is both non-invasive and does not feature a recovery time that must be spent in a hospital-setting.
When choosing platelet-rich plasma therapy as a solution to chronic pain, Florida pain patients are able to decide on a treatment option that provides flexibility and comfort. Without having to spend any time in a hospital and with the ability to go home right after a procedure, there are no signs leading patients away from this innovative pain management solution. PRP411.com greatly urges all Florida prolotherapy doctors who practice platelet-rich plasma therapy to inquire and subscribe to this network. Together, PRP411 and prolotherapy practitioners can effectively satisfy a massive influx or patient requests.
Florida patients who are experiencing symptoms of a condition such as tennis elbow, golfer's elbow, jumper's knee, muscle strains, tendon and ligament tears or strains and any orthopedic complications are advised to seek the services of prolotherapy. With great results and exceptional testimonials, patients are bound to achieve much deserved healing.