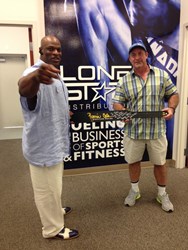 "People would rather send an email or text message than shake hands.... guess I'm just a little old school when it comes to business."
(PRWEB) February 21, 2014
Ronnie Coleman Signature Series™ expands North American distribution by partnering with Lone Star Distribution in the U.S. and Karma Nutritionals in Canada.
Ronnie Coleman Signature Series™ is a brand of sports and fitness supplements that is owned and operated by 8 Time Mr.Olympia Ronnie Coleman. The brand started in 2012 with just 2 products being distributed in Europe and has since exploded onto the supplement scene now offering 11 products currently being distributed in over 100 countries. Ronnie Coleman Signature Series™ also offers a signature line of luxury clothing, gym wear and gym accessories.
Lone Star Distribution is one of America's leading wholesale distributors for sports & fitness supplements with offices in Texas, Florida, Georgia, New York, Indiana and Connecticut. Lone Star was founded in the late 90's by CEO John Hoffmann who started the company by making deliveries himself out of the back of his car! Lone Star has since become a major player in the supplement distribution business but maintains the same hands on approach that the company was built on.
RCSS owner and President Ronnie Coleman on his partnership with Lone Star; "We are very excited and grateful to be partnering with Lone Star and its founder John Hoffmann. John has built a tremendous reputation as a national powerlifting champion, world record holder and now an industry leader in supplement distribution not to mention one of the nicest guys my team and I have ever met. We look forward to expanding both of our businesses together. Initial sales and support have been incredible so far and we're just getting started!"
Lone Star is equally as excited and optimistic according to CEO John Hoffmann, "Lone Star Distribution is proud to partner with the Ronnie Coleman Signature Series™ premium line of supplements. I am honored to know and work with Ronnie Coleman and his professional team. What Ronnie has accomplished as 8X Mr. Olympia, no man will be able to match. His hard work, dedication and competitive spirit is the energy of his entire company. We have the utmost confidence in the successful growth of his supplement line at Lone Star."
Within the first week of the Lone Star partnership Mr. Coleman was on the road with company reps visiting as many retail accounts as he could to thank them for their support and promote the new relationship with Lone Star. It's not too often that you see a celebrity owner of a company on the road in the field doing the ground work you would expect from the sales force. True to his humble nature, when asked about his exploits, Mr. Coleman responded, "Hey, it's the least I could. These accounts have invested their time and money in my brand and I want to show them my gratitude for that. I would visit every single account out there if I could. I think that personal face to face connection gets lost a lot in today's fast paced and technology driven world. People would rather send a text or an email than shake hands and while I do my fair share of text and email I guess I'm a little bit old school when it comes to doing business."
Ronnie Coleman Signature Series™ has also expanded its business to the north in Canada by recently partnering with Karma Nutritionals. Karma is a leading distributor or sport and health products across all of Canada and around the world. Mr. Coleman was very excited to be breaking into the Canadian market and will be celebrating with two separate tours of Canada planned this year with the first starting March 21st. "I'm really excited to be partnering with Karma to get the RCSS line out to the Canadian consumer. It's great to have a partner like Karma that will support your brand through both sales and marketing efforts as well as work with you closely to ensure the growth of both companies. I've been coming to Canada for a long time and they have some of the best fans out there. I won my very first pro show in Canada at the 1995 Canada Pro Cup. I can't wait for my upcoming Canadian tours to promote my line in Canada and meet the fans!"
Jennifer Walker, CEO Karma Nutritionals, shares the same excitement as Mr. Coleman. "We are very enthusiastic about our partnership with Ronnie Coleman Signature Series™. Some brands have great formulas, some have great packaging, some have great marketing… RCSS hits the mark on ALL aspects. We are very excited to have Ronnie Coleman visit top stores across Canada to grow the brand. All in all we feel very privileged to be working with a quality brand and quality people."
Stay up to date with Mr. Coleman's travel schedule by following him on Instagram @RonnieColeman8 or by using the hash tag #RCSS.